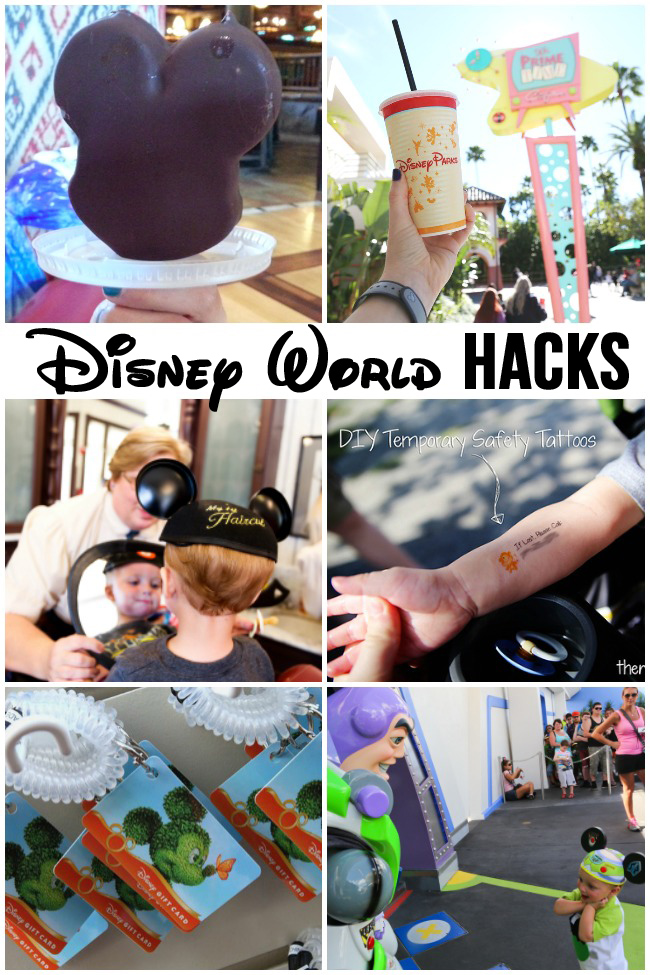 We are planning at trip to Walt Disney World at the end of the month, so I'm in major planning mode. I've found the best Disney World hacks online for our trip and wanted to share them with you, too.
Magical Hacks for Walt Disney World
Trust me, you won't want to visit the parks without reading these Disney World hacks first!
Stock up on essentials with these dollar store finds for your Disney vacation. via The Nerd's Wife
Make temporary safety tattoos for the kids in case anyone gets lost. via The Nerd's Wife
Keep your Mickey Premium Ice Cream Bar from melting all over you with this simple trick. via Adventures in Familyhood
Make your own Mickey ears before the trip! via The Nerd's Wife
Take advantage of all the free things available to resort guests, like transportation from the airport and more! via Guide2WDW
Start snapping photos of your kids as soon as it's their turn to meet the characters. I've gotten some amazing photos of my son's excitement this way!
Harmony Barber Shop is the perfect place to get your kid's first haircut — they'll even get an adorable set of Mickey ears to remember the occasion! via The Nerd's Wife
Score big on Toy Story Mania with these simple tips. via Disney Everyday
Pack a soft-sided cooler with lunch and snacks instead of spending money on food in the park. via Travel with Bender
You can get free samples of coke from around the world at the Coca-cola shop in Epcot. via Popsugar
Use this park forecast calendar to plan the days you'll visit each park. Stay clear of red days! via Undercover Tourist
Get the high score on Buzz Lightyear's Space Ranger Spin with these tips. via Attractions Magazine
Make sure your Magic Band stays in place with these silicone fasteners.
Order an umbrella stroller and have it delivered to your Disney resort room so you don't have to take it on the plane.
Speaking of strollers, buy a balloon at attach it to yours. That way, you'll easily be able to spot it! via Everyday Best
Buy Disney gift cards with a Target Red Card to receive 5% off! via Popsugar
Speaking of Disney gift cards, give each child a gift card to spend in the park. This makes it easy to keep them on a budget — once it's gone, it's gone! via The Shabby Creek Cottage
Don't buy bottled water! Any food establishment will give you a free cup of ice water if you ask. via Popsugar
Get free souvenirs with this easy activity that many guests don't even know about! via Finding Debra
Have kids carry snack packs with water bottles and snacks they can eat throughout the day.  Not having to buy snacks is a great way to save money and time. via Dukes and Duchesses
Did you know you get these awesome perks when staying at a Disney resort?? via Finding Debra
Make your own autograph books that are fun and personalized! via Dukes and Duchesses
Or print off this super cute Disney Trip book and get the characters to sign it. via Busy Mom's Helper
Visiting on a hot day? Don't miss this hidden play area — The Paleo Zone! via Finding Debra
Going with a big family? Check out these tips to maximize your budget. via Dukes and Duchesses
Sneak into the hotel room before your kids to leave a special gift welcoming them to the park! via Hustle Mom Repeat
Plan what you'll pack — I love these 5 must-have items from Hustle Mom Repeat!
Skip the long lines at Bippity Boppity Boutique and let your kids get a makeover at The Pirates League. via Everyday Best
Don't leave home without this printable Disney World ride checklist! via Busy Mom's Helper
Have you been to Disney World? Anything you would add to the list?
br>