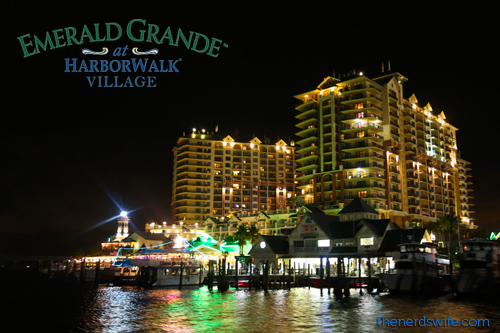 Last weekend, I had the chance to experience one of the best Destin resorts — Emerald Grande at HarborWalk Village — with a group of 24 bloggers.
We descended on the Emerald Coast for Brandcation, a sponsored weekend getaway that exposes bloggers to a particular area and the amenities it has to offer. In exchange for media rates, and sometimes comped, activities, the bloggers agree to share their experiences with their readers. You all know how much I love to travel, so this experience seemed right up my alley.
My Destin Resorts Vacation.
I'll be sharing my Destin resorts vacation in a series of posts, but today I wanted to highlight the resort itself. It was my first time staying in a resort, and I have to tell you — I wasn't disappointed! The folks at Emerald Grande thought of everything.
Beautiful Views and Spacious Rooms.
Situated right on the Destin Harbor, Emerald Grande offers beautiful views of the gorgeous Florida coast. This Texas gal never tired of seeing palm trees and white sandy beaches.
Even the view from our room was beautiful. We stayed in a three-bedroom condo with a view of the Emerald Grande pool and deck area. Our room was fabulous. There was a master bedroom with a king bed and its own bathroom, a spare bedroom with a queen bed and another bedroom with bunk beds for the kiddos. The room also featured a full-size kitchen that was stocked with dishes and a few snacks, so if you wanted to save money and buy groceries instead of eating out, that's an option.
Private Beach with Shuttle Service.
A short boat ride took us to the Emerald Grande's private beach. It happened to be cloudy and cold the morning that we went, but that didn't stop us from enjoying a bit of fun in the salt water! My friend, Courtney from My Crazy Savings, grabbed a boogie board and jumped in! She was braver than me. I decided to lounge in one of the comfy beach chairs instead.
The secluded beach was a nice respite from the hustle and bustle of HarborWalk Village and the surrounding area. Go early enough in the morning and your family could be the only ones there!
Food and Entertainment Within Walking Distance.
The Emerald Grande is part of HarborWalk Village — a fun collection of shops and restaurants right along the Destin Harbor.
While the hotel does have great food options (you can even get Starbucks delivered to your room!), there are many great restaurants along HarborWalk Village. We had the chance to eat at La Famiglia on the Harbor, Harry T's, and Crab Island Cantina. Each offered great food and an awesome atmosphere with beautiful views of Destin Harbor.
In addition to the great restaurants, there are tons of fun shops along HarborWalk Village. I had to stop in to Kitty Hawk Kites and buy a few souvenir t-shirts for my son and nephews. And I really loved the accessories at Dalton & Company. I even came home with a fun watch!
There are also lots of fun activities for you and your family. Little ones can jump aboard the Cubby Caboose train to ride along the strip. And there are TONS of water sports available, from paddleboarding with Kitty Hawk Kites, to snorkeling with Destin Snorkel, to jet ski rentals with Boogies Watersports.
I really had a great time, and I'm looking forward to sharing more highlights of my trip with you!
To read more about my Destin resorts vacation, click here.
Disclosure: Media rates and, in some cases, comped activities were provided to showcase this venue properly. All opinions are my own. Photos are property of The Nerd's Wife, unless otherwise noted.
br>