During my Destin resorts vacation last weekend, I got the chance to snorkel for the first time ever. Destin Snorkel graciously donated their time and services for our group of bloggers so we could experience this fun water activity.
I was really excited, but also a little anxious because I didn't know what to expect. The Destin Snorkel crew quickly put my fears to bed, though, with their fun, upbeat attitudes and excitement for our trip.
When you have a group of ladies this fun, how can you not be excited?
Photo Courtesy of Destin Snorkel
It was cold and rainy, so we all climbed into wetsuits for the trip. Some of the group had decided to snuba — I knew that probably wouldn't work out for me, since I tend to be claustrophobic and the thought of being under lots of water terrifies me. I was happy to get my snorkel on, though!
Once we had our gear, we loaded up onto the boat and set sail for Holiday Isle. On our way, we got to see several dolphins! There was a beautiful rock jetty with lots of sea life for us to see.
With a bit of trepidation, I jumped in the water and started to make my way to the jetty. About this time, it started to rain. But I really couldn't feel anything in my stylish wetsuit. At least that's what I told myself.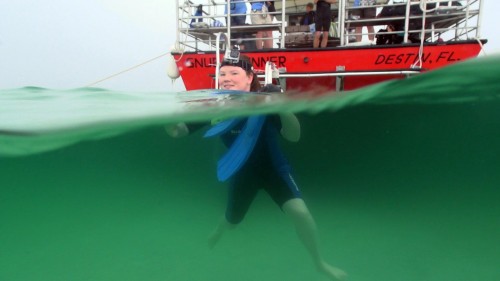 Photo Courtesy of Destin Snorkel
By the way, flipper may make it easier to swim, but they definitely make it harder to walk. Not sure if the good outweighed the bad. But then again, I'm not a fish and I like my feet how they are.
This is me and Jenna from Bucktown Bargains!

April from AprilGolightly and Tiffany from Babes and Kids Review were so cute with their pregnant belly bumps!

I quickly discovered that snorkeling was not for me. It is very unnatural to breath through your mouth with your nose being plugged. And it totally freaked me out. So, I snapped a few pictures with my awesome LifeProof iPhone case and headed back to shore.
Luckily, the crew of Destin Snorkel had us covered! They had several kayaks on shore for us to take out if we wished, so a couple of the girls and I decided to go for a spin. Let me tell you, kayaking is hard work! But it was fun, and I can now say that I've kayaked in the Gulf of Mexico. So there's that.
I know the other ladies had an awesome time on their snuba adventure. You can check out some photos of the trip over on Destin Snorkel's Facebook Page.
This is definitely something you don't want to miss out on when you vacation at Destin resorts, like the Emerald Grande. To read more about our trip, click here.
Disclosure: This activity was sponsored and comped by Destin Snorkel. All opinions are my own. Photos are property of The Nerd's Wife, unless otherwise noted. 
br>