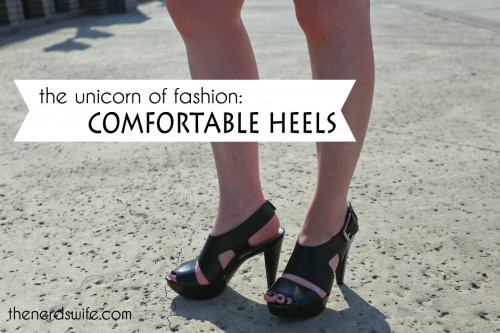 In college, I went on a major Sex and the City kick. I didn't quite have the budget to go all Carrie Bradshaw and order a pair of sparkly blue Manolo Blahnik heels, so I made do with what I could afford: some black pumps from Target. Those were the most uncomfortable shoes on the planet.
I understand that a $900 pair of shoes is vastly different from a $30 pair, but the idea of a comfortable pair of heels just seemed ludicrous to me. How could teetering around on a pair of poles attached to your heels ever qualify as comfortable?
Comfortable heels became the Unicorn of Fashion to me — something the optimist in us all wants to believe is real but we can never actually locate in the wild. Until a few weeks ago.
I just happened to be at Nordstrom looking for a new pair of Toms, when one of the sales associates walked by in these killer black heels. I'd been searching for a pair like them for a while, so I asked if they had them in the store. When she told me they were by Michael Kors, I just knew they'd be WAY out of my price range. Turns out they weren't, and when I tried them on, it was love at first sight.
These heels actually are comfortable. They're cushioned, and they hug my foot. And with the platform bottom, they're surprisingly easy to walk in.
Shirt: Banana Republic (similar) | Shorts: Target | Shoes: Michael Kors
Bag: Michael Kors | Watch: Michael Kors
It was so hot in Dallas yesterday. My friend Emily and I were going to the Backstreet Boys concert that evening, so I wanted a fun outfit that wasn't too hot. I decided to dress up a pair of black chino shorts with my comfortable heels. A leopard print top added some sophistication to the outfit for a fun night out.
I think the little man approves!
Do you consider heels comfortable?
br>