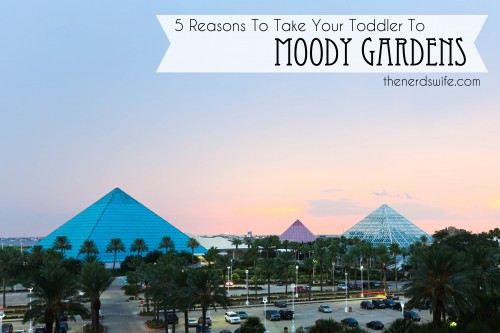 On our recent trip to Galveston, we had the chance to visit Moody Gardens and stay at the hotel there. It had been years since I'd been to Moody Gardens, and I was excited to experience all there is to see and do there.
Our trip was sponsored by the Galveston Island Convention and Visitor's Bureau and Carnival Cruise Lines. One thing that really impressed me was that Moody Gardens — along with several other Galveston hotels — offers free shuttle service to the cruise terminal at the Galveston Port. For what you would pay in parking near the terminal, you could stay in a hotel for the night and experience a bit of the Galveston attractions. Love that!
Moody Gardens is a wonderful property with tons of things to do on site. There is so much to experience that you could spend an entire weekend there! Think of everything that your little one would enjoy — a zoo, aquarium, beach, pool, movies, boat ride — and they've got it, all in one location!
5 Reasons To Take Your Toddler To Moody Gardens
1. Rainforest Pyramid
The Rainforest Pyramid was so much fun. There were tons of animals to see — butterflies, monkeys, parrots, an ocelot — and my son had a blast looking at them all. I loved that many of the animals roamed free inside the pyramid, and there were helpful Moody Gardens employees to point out the ones that were a bit harder to see. We even got to see the ocelot eat lunch, although that particular experience is not something I'd recommend for small children. I'd avoid the ocelot cage around meal time. Other than that, though, we felt like we were actually in the rainforest, which was a lot of fun for my Diego-loving child!
2. Aquarium Pyramid
Probably our favorite of the pyramids, the Aquarium Pyramid is such a great visual experience. We got to see penguins and sea lions. Andrew loved running around and looking in all the tanks. There was even a shark cage that small kids could climb into! We've been to lots of aquariums, but this was one of the best we've visited.
3. Meet the animals up close and personal!
We got to experience an abbreviated version of the Penguin Experience and let me just say — I want to go back and do the real thing! While we didn't get to touch or pet this cute little girl, we did get to learn about Emperor Penguins and listed to her sing. Andrew was mesmerized.
4. The architecture is just plain awesome.
Your little one will be so excited about visiting each of the pyramids, which look so cool from the outside. Inside, there are so many different levels and areas to explore that you'll have a hard time reigning them in! From tall windows to spots that light up and make insect noises, your toddler will feel like an explorer out conquering new land!
5. They get to meet Sunny the Penguin!
Mornings at the Moody Gardens Hotel begin with a character breakfast featuring Sunny the Penguin! Sunny and his keeper walk around to each table, taking photos with kids and giving them stickers. When you check into the hotel, younger guests receive a Kid's Crew Fun Pack, featuring arts and crafts, games and other fun activities around the hotel.
BONUS: There are so many special exhibits!
We happened to visit on the last weekend of the Dinos: ALIVE exhibit and let me tell you — this was hit! Andrew was running around roaring like a dinosaur. The animatronic creatures were huge and life-like, moving and growling. I kept having to remind myself that they weren't real. I can't wait to see what other special exhibits Moody Garden brings now that Dinos: ALIVE is over!
The view from our hotel room was amazing — I happened to catch sight of a thunderstorm out over the Gulf, and had to try to capture some shots of the lightning. Andrew loved going out onto the balcony and looking out at all the fun lights.
You can see more photos from our trip in my Flickr album. There's so much to see and do in Galveston — check out some suggestions, or click here to read more of our Toddler Travel adventures.
Disclaimer: We received a complimentary hotel stay and tickets to Moody Gardens attractions, courtesy of the Galveston Island Convention and Visitor's Bureau and Carnival Cruise Lines. All opinions and photos are my own. 
br>