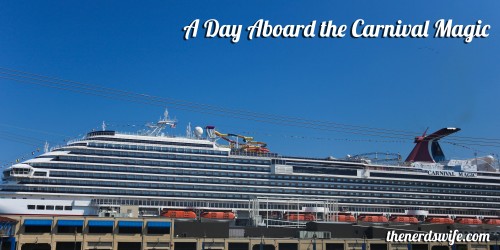 Alternately titled: Reasons I'm Trying to Convince My Husband To Go On a Cruise
A few weeks ago, my family was invited to spend the day aboard the Carnival Magic ship while it was docked in the Port of Galveston during our family vacation there. I'd never been aboard a cruise ship before, and I was excited to see what all the fuss was about. Let me tell you, I wasn't disappointed! For a cruise newbie like me, there are many things that were surprising. I've been trying to talk The Nerd into going on a cruise for years — they are such a great affordable option for a vacation. He always argued that I'd get seasick or there wouldn't be anything to do, or that we'd have to deal with Andrew the whole time. This trip put all those arguments to bed, and I am already working on him to book a cruise for our upcoming five-year anniversary.
1. The food is awesome.
In my experience, when food is included in the price of something, it tends to be bland cafeteria-style food that really isn't that great. Meals are always a disappointment to me on vacation, so I didn't have high hopes for the food that would be offered on the ship. Boy, was I wrong. We had the chance to sample some of the dishes and let me tell you, I'm *still* dreaming about the chocolate mousse we had for dessert.
2. There is complimentary childcare.
This fact alone sold me on taking a cruise. Not only is there complimentary childcare, but children are placed in specialized groups to let them bond and spend time with other children their age. Children ages 2-11 attend Camp Carnival, which offers games, art projects and other fun activities. Teens ages 12-14 can play video games, dance and participate in teen-only shore excursions in Circle C. And then there's Club O2 for teens ages 15-17 years. They have themed dance parties, shore excursions and other activities for the older teen crowd. Complimentary childcare is offered from 8 am to 10 pm, but you can opt in to the Camp Carnival Night Owls for a small fee. That gives you the option of extending your childcare until 3 AM — giving you the chance to enjoy some of the ship's adult-only evening activities! Camp Carnival also offers extended hour parties where they walk your child back to your room — you don't even have to go pick them up! They even offer limited childcare options for children under 2 years for a fee. If you are wanting a family vacation with the option to spend some adult alone time, this is definitely a great option!
3. The ship has a freaking water park!
Doesn't that look so cool? My son and husband spent some time at Carnival WaterWorks while I was in a meeting, and they didn't want to leave! There are smaller slides for little ones and lots of splashing fun. This is probably where we'd spend every day aboard the ship, if my son had anything to say about it!
4. The pool has a movie theater!
Ok, how awesome is this? You can enjoy a movie poolside during Carnival's Dive-In Movies. This would be a perfect way to end a day out in the sun. I know Andrew would be mesmerized by the size of that screen!
5. There's a rope course onboard!
There are so many different sports activities onboard — basketball, mini golf, foosball — but the coolest has to be the rope course! It looked like so much fun and I know that kids of all ages would have a blast navigating it!
6. The ship is HUGE!
With the capacity for more than 3,500 passengers, you'd think the ship would feel crowded. On the contrary, I was impressed with how spacious and open it felt! There are so many different things to do and places to go that it didn't seem like there were thousands aboard the ship.
We had so much fun aboard the Carnival Magic — I didn't want the day to end! Andrew was so sad when we had to wave goodbye to the ship. I never realized how family-friendly the ships from Carnival Cruise Lines are. Here's to convincing The Nerd that we need to make a cruise happen soon! You can also read more about our weekend in Galveston and our stay at Moody Gardens.
Disclaimer: Carnival Cruise Lines and the Galveston Island Convention and Visitors Bureau invited my family to spend a weekend exploring the island and aboard the Carnival Magic. All opinions and photos are my own. 
br>