I am so excited today to bring you a guest post from the fabulous Jeff McKinney, Reviewer/Editor/Star Wars Enthusiast at TimetoPlayMag.com, on the Top Star Wars Toys. May the 4th be with you!
Each year on May 4, Star Wars fans celebrate one of their favorite movies by saying "May the Fourth be With You" all around the world. This play on the iconic line from Star Wars – May the Force be With You – has grown from a grassroots movement to becoming known as Star Wars Day.
Believe it or not, the first recorded use of "May the Fourth be With You" occurred on May 4, 1979 when Margaret Thatcher was elected Prime Minister. Thatcher's political party bought an ad in the paper and used the now famous saying to congratulate her on the victory. I
t's been more than 30 years since that ad appeared and today Star Wars Day is recognized around the planet and will, for the first time, be celebrated at Walt Disney World, with a day of Star Wars themed events.
For those of us that can't make it to Disney World, we can celebrate Star Wars Day by checking out some of the best Star Wars stuff available today.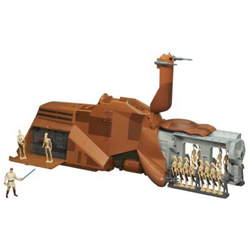 1. Star Wars Trade Federation MTT (Multi Troop Transport) Vehicle
$149.99/Ages: 4 years & up
The Federation MTT Vehicle from Hasbro is the latest, large-scale toy for the 3 ¾-inch action figures. This vehicle is first seen in Star Wars Episode I: The Phantom Menace and at two feet long, it's a whole lot of Star Wars fun. It features electronic lights and sounds, firing projectiles and motorized droid deployment, just like the movie. It comes with 20 battle droid figures (four fully poseable figures and 16 battle-posed figures) and an Obi-Wan Kenobi figure.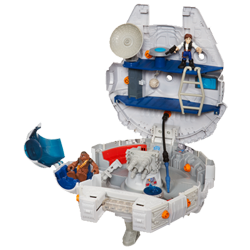 2. Star Wars Playskool Heroes Jedi Force Millennium Falcon With Han Solo & Chewbacca
$39.99/Ages: 3 years & up
One of the best Star Wars lines designed for young Padawans is the Star Wars Playskool Heroes line. These chunky figures are younger versions of the classic characters and they have a whole line of vehicles and playsets designed for little hands. The Jedi Force Millennium Falcon with Han Solo and Chewbacca is multi-leveled playset based on one of the most recognizable and fastest ships in the Star Wars universe, the Millennium Falcon.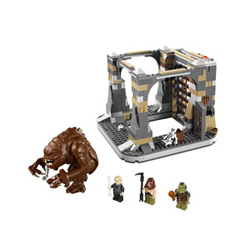 3. LEGO Star Wars Rancor Pit
$59.99/Ages: 8 and up
LEGO continues to create Star Wars construction sets that Star Wars fans of all ages love. The Rancor Pit building set is a 380-piece set that lets fans build and recreate the scene from Star Wars Episode VI: Return of the Jedi, where Luke skillfully avoids becoming the Rancor's afternoon snack. Star Wars LEGO fans often tell us that their favorite thing about the sets are the minifigures and the Rancor Pit comes with a Rancor figure plus Luke, the Rancor Keeper, a Gamorrean guard and a skeleton.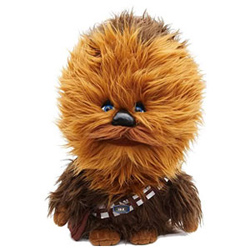 4. Talking Chewbacca Plush
Ages: 3 and up/$29.98
While the Star Wars universe might be filled with grotesque and slimy creatures, it's also a galaxy of cuteness, which is captured by Just Play in their line of Talking Plush dolls. Talking Chewbacca is a soft, 14-inch stuffed animal who growls when his stomach is squeezed. Other characters in the talking plush line include Darth Vader and Yoda.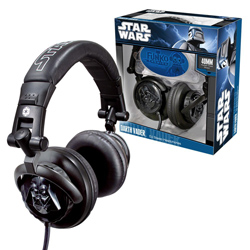 5. Darth Vader DJ Headphones
Ages 5 and up/$49.99
FunKo's Darth Vader DJ Headphones let Star Wars fans listen to their music, movies and games in Sith-style. The headphones feature Vader's visage, the imperial logo and the words, "Star Wars" emblazoned across the band.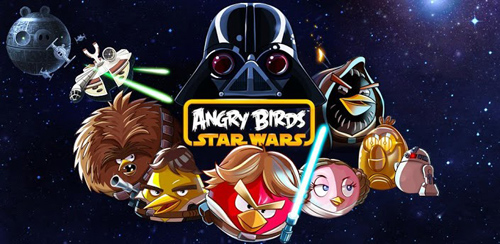 6. Angry Birds Star Wars
Ages: 4 and up /Free (ad supported)
Rovio's Angry Birds Star Wars app game has spawned multiple products from toys to board games to plush but you can't beat the app that started it all. This Star Wars-themed version of Angry Birds features the pigs and birds as Star Wars characters with the birds possessing the weapons and abilities of the characters that they are based on.
Do you have a favorite Star Wars toy? See any on the list you like?
br>