It's been a while since I was in the kitchen and cooked anything.
Morning sickness will do that to you. Shudder.
But yesterday, I made myself get up off my lazy bum and bake some cupcakes. My sister and her family are visiting from New Mexico, where wildfires forced an evacuation of her home town. They believe their house will be alright — it's on a different plateau from where the fire is currently burning, but they're here for the week nonetheless.
That means that we're staying in a house with FOUR BABIES! Ahhh!
I wanted to do something special for the little ones for the holiday, and these cupcakes were the perfect thing. You should have seen River sitting with me trying to pull up the little sparklers off the wax paper…
"Oops! Renie, I broke this one, too! Guess I'll just have to eat it…"
Two-year-olds can be SO FUNNY.
So this really isn't a recipe, per se, but more of a decorating idea.
So, without further adieu, let's begin!
Sparker Cupcakes
What You'll Need:
A dozen baked cupcakes, frosted as desired.
A bag of red Wilton candy melts
A bag of blue Wilton Candy melts
Wax paper
Two Ziploc bags
Directions:
Lay out the wax paper on a table or flat surface.
Melt one set of candy melts, according to package directions. I just did half a bag of each.
Scoop the melted candy into one of the Ziploc bags. Cut off the corner to allow the candy to pour out of it.
Make squiggles down the wax paper with the melted candy. Allow to harden.
Repeat with the other color.
When the candy squiggles have set, stick them in the icing, like sparklers!
Enjoy!
And don't miss these yummy patriotic recipes!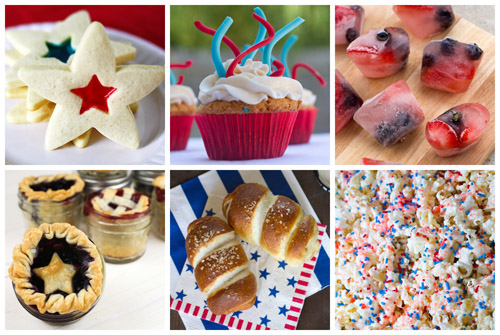 Star-Spangled Sugar Cookies | Sparkler Cupcakes | Fruit-Infused Ice Cubes
Patriotic Pies in a Jar | Pretzel Hot Dogs | Firecracker Popcorn
br>