Christmas may be over, but the holiday season doesn't have to be! One of my favorite things to do during the cold winter months is curl up on the couch with my kids and a cup of yummy hot chocolate. When Netflix asked me to share one of my family's favorite holiday movies with you, I knew exactly which one I'd choose.
The Polar Express is one of my boys' favorites. They especially love the dance scene from the train where the kids get mugs of hot chocolate. I wanted to make something special for them this year, so we decided to make this delicious S'mores Hot Chocolate recipe. They kept singing, "Hot, hot, hot…" as we made it. And the reviews were a resounding, "YUM!"
The recipe is really simple and easy to make. Kids love that there are actual roasted marshmallows in it!
S'mores Hot Chocolate
Ingredients:
Your Favorite Hot Chocolate
3-4 Graham Crackers
Peanut Butter
3-4 Jumbo Marshmallows
Bamboo Skewer
Chocolate Syrup
Using a butter knife, spread a thin layer of peanut butter around the rim of your mug.
Crush the graham crackers and put them on a plate. Set the top of the mug on the graham crackers, making sure to coat the peanut butter in cracker bits.
Make the hot chocolate according to package instructions and add it to the mug.
Now comes the fun part! Add the marshmallows to the bamboo skewer and roast them over a burner on your stove. This works even if you don't have a gas stove — electric burners will still roast them!
Add the marshmallows to the top of the cup, and drizzle with chocolate syrup.
Enjoy while watching your favorite holiday movie!
Check out some of these Holiday Favorites from Netflix: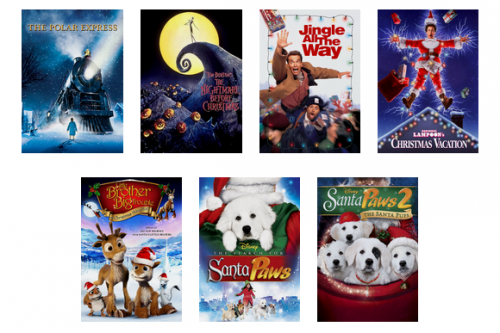 Do you see any of your family's favorites?
br>