It's no secret that GoGo squeeZ is a staple in our house. And with Valentine's Day coming up, I wanted to create a fun handmade valentine that incorporated this healthy preschool snack. So often, valentines are centered around unhealthy sugary sweets. But not this one!
Plus, GoGo squeeZ is hosting their first annual Play Day on January 11, and you're invited! All you have to do is book your play day online and GoGo squeeZ will give you a coupon for a FREE 4-pack of ANY FLAVOR of GoGo squeeZ! The coupon is good on January 11 — the day of the play date.
The squeeZ Squad will be showing up in 11 cities across the US, including right here in Dallas! Stay tuned to Facebook this week for clues on how to get in on the Play Day kick-offs in each city.
You could even host an early Valentine's Day party with your kids and make these I Like You "Berry" Much Valentines! How fun would that be?
I Like You "Berry" Much Valentines
Supplies:
Strawberry-Apple GoGo squeeZ pouches (or any other berry flavor!)
Foam Heart Cutouts
Hole punch
Red pipe cleaners
Red glitter cardstock
Valentine messages
Glue dots or hot glue
Directions:
You'll want to print the Valentine Messages on white cardstock using this PDF file. I cut them into squares and used glue dots to attach them to the GoGo squeeZ pouches. I also used glue dots to attach the arrow pieces I cut from the red glitter cardstock.
Aren't these so much fun? They are perfect for preschoolers that have to provide snacks in store containers.
And don't forget to book your GoGo squeeZ play date for January 11!
What's your favorite flavor of GoGo squeeZ?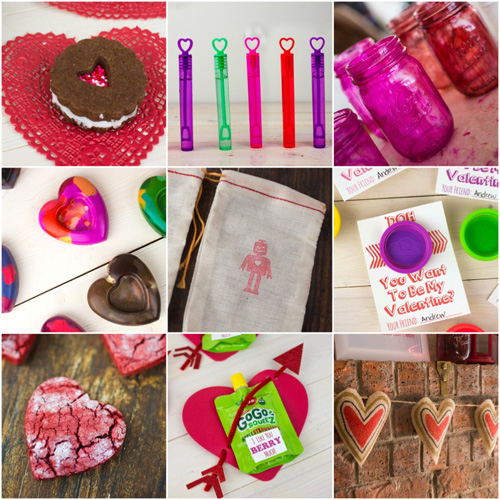 Valentine Sandwich Cookies | Bubble Valentines | DIY Colored Mason Jars
Heart Crayon Valentines | Robot Heart Valentines | Play-Doh Valentines
Red Velvet Crinkle Cookies | GoGo squeeZ Valentines | Burlap Heart Garland
br>