Have you ever wanted to freeze a moment of your kids' childhood? With the OneDay App, you can do just that. This story-telling video app helps you create one-of-a-kind videos that you will cherish for years to come.
With the OneDay app, you can choose a topic and create a story by asking your child (or spouse!) questions around that topic. Their answers may surprise you! And when OneDay strings it all together by adding music and transitions, the effect is stunning.
It really is a unique way to connect with the loved ones in your life. You can make movies of your children like a pro in seconds with fun holiday themes and curated, thought provoking, fun story sets.
The best part is that the app requires no editing or video skills — you just open it, ask a question, press record, and it does the rest!
I first started using this app last summer, and it is amazing to see how much Andrew has grown and changed in that time!
Here's a video from last August:
And here's a video from this month:
With Valentine's Day right around the corner, I wanted to get Andrew's take on the holiday. I love that there were ready-to-go themes within the app with pre-written questions that I could ask him.
I guess I need to return the chocolate heart I got him and get some pineapple and pizza instead.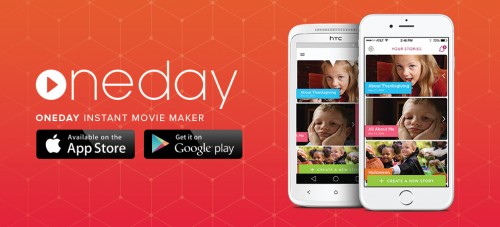 OneDay now has a version for Android AND iPhone — so anyone can capture their fun video stories!
The OneDay App is currently free. You can download the OneDay app in the iTunes store or the Google Play store.
Disclosure: This post is sponsored by OneDay app. All opinions are my own. 
br>