We are in full potty training mode at our house, and there are a couple of tools that have helped our journey that I wanted to share: a Printable Potty Reward Chart and Pull-Ups® training pants.
When we made the decision to try potty training, there were a couple of obstacles we had to overcome with Andrew. First, we had to show him that he was a "big kid" because he wasn't wearing diapers anymore. That's where Pull-Ups® training pants came in.
When Pull-Ups® asked me to share a sponsored story about our potty training journey, I couldn't wait to tell you about the Pull-Ups® Big Kid Academy. It has helped with our potty training journey so much!
The potty training journey is an exciting milestone, but parents can find it frustrating because they don't understand the process. So we've been using the Pull-Ups® Big Kid Academy, where you can register to receive a personalized "My Pull-Ups®" page with potty training activities and advice customized to your point in the potty training journey.
We immediately started using Pull-Ups® Training Pants when we started potty training because they guide the process towards independence through learning while offering just the right amount of protection.
Pull-Ups® stretchy sides teach toddlers how to take them off and put them back on all by themselves, and easy-open sides make it easy for mom and child to check for potty breaks.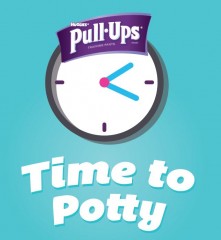 Another obstacle was convincing Andrew to take time out of playing to try to go potty. That's why we love the Pull-Ups® Time to Potty App, which has a smart potty timer that helps your child learn to take regular potty breaks. Andrew gets so excited when the timer goes off — it reminds him to stop playing and go try.
The app adjusts based on behavior patterns and input from parents — you can even customize the child's name, gender, age and the time they wake up and go to sleep. And it includes fun features and activities that parents can do with their little ones including puzzle games, music makers, coloring pages and search and find games.
And, finally, we had to make Potty Training fun for him, by offering a reward system that would get him excited to actually *go* in the potty.
I made these fun Printable Potty Reward Charts to help with that. There are two versions — one with fewer stars for beginners, and one with more stars that you can move to once your child has mastered the first chart.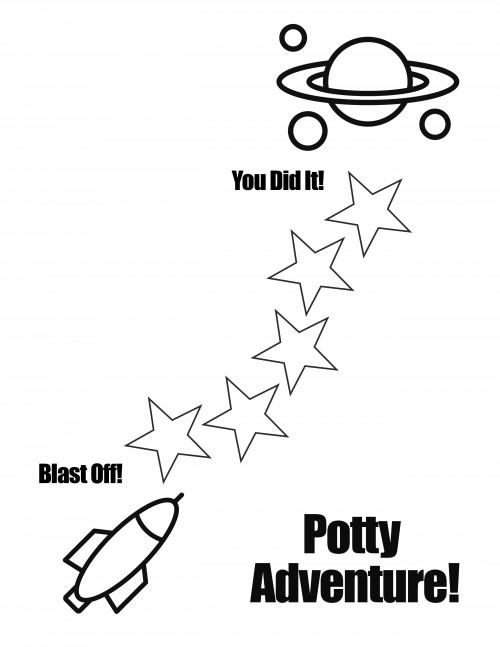 Click here to download this Printable Potty Reward Chart.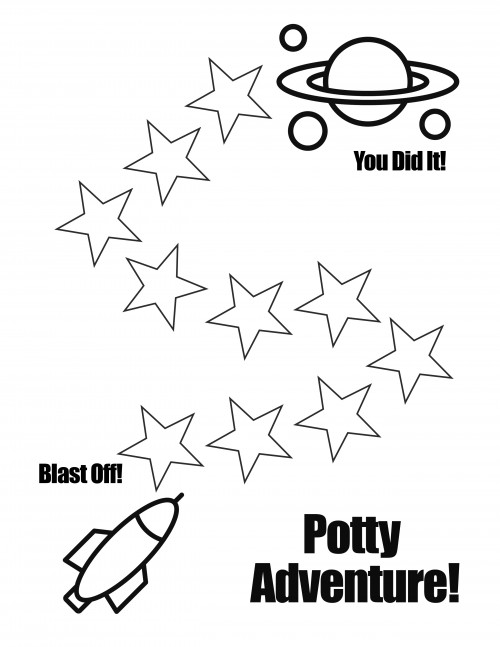 Click here to download this Printable Potty Reward Chart.
Andrew loves that it's a space theme — he gets so excited to go on his "Potty Adventure" and blast off! I print off the sheets and let him color them before we put them on the wall, then every time he successfully goes in the potty, he gets a sticker on a star. Once he reaches the planet, he gets a prize! It gives him a sense of accomplishment and makes going potty a fun game that he can win!
Pull-Ups® training pants come in three sizes: 2T–3T (18- 34 lbs.); 3T–4T (32–40 lbs.) and 4T–5T (38+ lbs.) Plus, Pull-Ups® offers three different kinds of gender and size specific training pants that include: Cool Alert®, Learning Designs®, and Night*Time Training Pants (available in two sizes: 2T-3T and 3T-4T).
Pull-Ups® training pants are available in new designs featuring Doc McStuffins and Ariel for girl,s and Jake and the Never Land Pirates and Lightning McQueen for boys.

When you register at the  Pull-Ups® site, you'll receive an individual link sent by email to download a coupon to purchase Pull-Ups® training pants. Share the link with your followers for an additional $1 off!
This is a sponsored post written by me on behalf of Pull-Ups®.
br>