As part of a sponsored post for Collective Bias, I purchased the Samsung WB800F Camera from Sams Club and put it to the test during our family adventures for the last two weeks. We've been to the Dallas Zoo, on a road trip to Houston, and visited the Texas Discovery Gardens!
Since I first got a DSLR, photography has been a huge part of my life. You can rarely find me without it in front of my face. And while I love taking photos, I've recently started to get very tired of lugging that heavy camera around with me. I already have a 23-pound toddler to carry; a 23-pound camera (ha!) just isn't feasible.
I've been looking for a small compact system camera to carry with me when my son and I go out on adventures. And while cell phones seem to be the camera of choice for parents these days, I wanted a camera that would produce better quality photos than blurry cell phone pics.
I ended up selected the Samsung WB800F Camera bundle from Sams Club. They have a great selection of Samsung Smart Cameras. This is an awesome camera that comes with an 8GB memory card and case. (Check out my entire shopping trip to Sams Club — including where to find the Samsung WB800F camera — here.)
One thing that was important to me when selecting a camera was ease of sharing my photos. We have family spread all over the country, and I keep up with them through Facebook. The Nerd's cousins share photos of Andrew with his grandmother in Canada through my Facebook posts. I've never met some of his family in person, but they have been able to see Andrew grow up through my Facebook posts.
So I was really excited to learn that the Samsung WB800F Camera comes with wi-fi direct capability to upload directly to social sharing sites (including Facebook).
I don't know about you, but I dread sitting down at my computer, plugging in my memory card, transferring all my photos over, then uploading to Facebook, writing captions, blah blah blah. I hate it.
The Samsung WB800F camera makes that process so much easier.
You just click the camera over to wifi mode, choose "SNS & Cloud," choose Facebook, and connect to your wireless network. You'll have to login to Facebook. Then, a screen will appear where you can select which photos you want to upload and if you want to add a caption to them.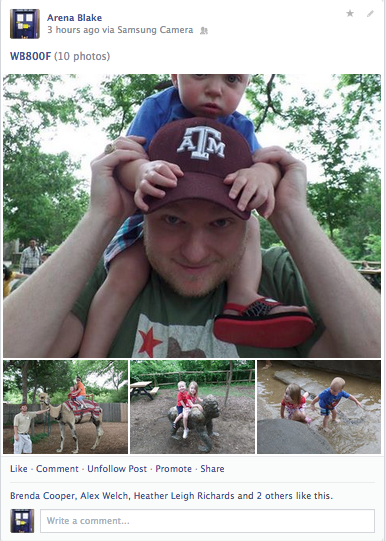 It really is that simple. The photos appear on your Facebook profile in an album called WB800F. You can always go on your computer and change the title, though.
Another thing I really love about the Samsung WB800F camera is the range of options while shooting. You can put the camera in Aperture Priority, Shutter Priority or Manual mode to work with settings like you would on a traditional DSLR. We went to the Dallas Zoo with my mom, niece and nephew and I took the WB800F camera.
I shot these photos in Aperture Priority mode, using f/2.8. The lens on the Samsung WB800F camera is really great for low light photography — that low aperture means I could shoot without the flash, even inside.
I also really like the Smart Camera Mode. Here, you can choose from a range of options — Beauty Face (for portraits), Landscape, Macro, Action Freeze and Waterfall are just a few.
I really tested out the different modes this weekend when The Nerd and I took Andrew to the Texas Discovery Gardens at Fair Park.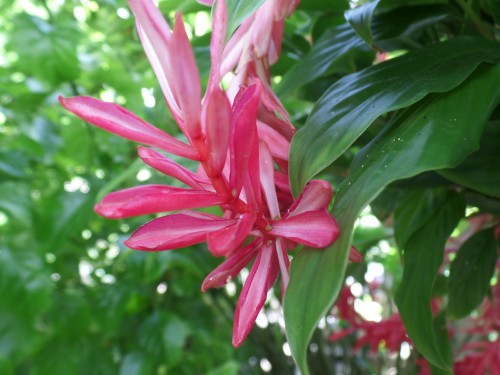 This was shot with the Macro option.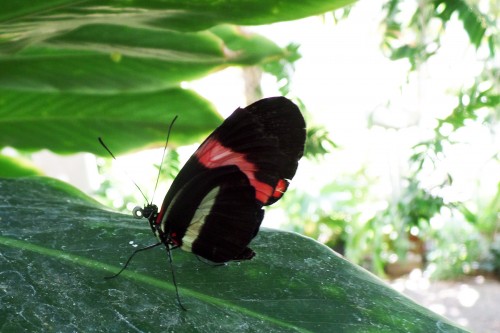 This was shot with the Macro option.
This was shot with the Action Freeze option
I  thought Andrew would love seeing the butterflies there, but his favorite part was the fountain outside!
I also love the touch screen on the camera — you can easily click through the different menu options. And to focus the camera, you simply click the back of the screen and it will focus where you touched!
I've had this camera for a little over two weeks, and it's made its home in my purse. I don't feel like I have to lug my DSLR on our family adventures anymore, and I am taking way better photos that I would on my phone. I love it!
Do you have a compact system camera for everyday life?
Disclosure: I am a member of the Collective Bias® Social Fabric® Community. This shop has been compensated as part of a social shopper insights study for Collective Bias and Samsung. All photos and opinions are my own. #PixBundle #CBias