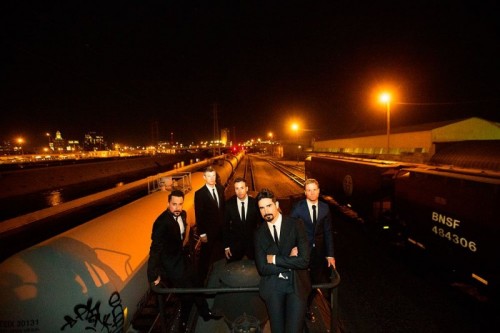 ….Backstreet's Back…. ALRIGHT!
A child of the 90's, my teenage years were defined by the Boy Band Debate: Backstreet Boys vs. 'N SYNC. My girlfriends and I spent long hours analyzing things like Nick Carter's smile and Justin Timberlake's curly locks.
I was always decidedly in the Backstreet Boys camp. I had all their albums and knew all their songs by heart. I cut out photos from Tiger Beat and BOP and plastered my walls with them. Yes, I was *that* girl.
So when I heard that the Backstreet Boys were releasing a new album and launching their new In A World Like This Tour, I squealed, and then started looking up tour dates. I was really pumped when Live Nation reached out to me and offered me a pair of tickets to give away on my blog and a pair of tickets for me to use myself!
Can you say girls' weekend!?
The Nerd had NO interest in going with me, and that's ok, because one of my high school girlfriends is game! I'm so excited to relive those teenage memories with her!
This is the band's first tour with all five original members in a decade, and they're hitting 24 North American cities. Tickets are on sale now through Live Nation and TicketMaster.
And here's your chance to win a pair! Use the form below to enter the giveaway. One winner will receive one (1) pair of two (2) tickets to any stop on the tour. **NOTE: Tickets are extremely limited for each city. In the event that a show is sold out, the winner may have to choose an alternate city, if applicable.**
Are you a Backstreet Boys fan? Who's your favorite Backstreet Boy?
Disclosure: This giveaway is sponsored by Live Nation. I was provided two tickets in exchange for promotion. All opinions are my own. 
br>