Disclosure: Product was provided to facilitate this review. All opinions and photos are my own.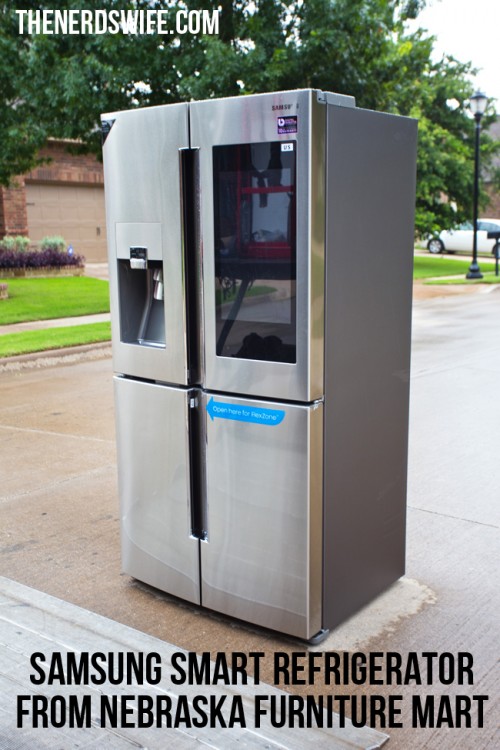 We recently upgraded to the Samsung Smart Refrigerator from Nebraska Furniture Mart. Y'all, this fridge is amazing! I'm so excited to share some of my favorite features.
Before we moved into our new house, I never thought much about the features of a refrigerator. When we rented, we just bought a bottom-of-the-line, cheapest-we-could-find fridge. It kept food cold, and that's about it.
The Samsung Smart Refrigerator with Family Hub is so much more. It's an accessory for your kitchen. It turns a plain, old boring appliance into a central part of your home.
Food Management with Samsung Smart Fridge
Food management is a breeze with the Samsung Smart Fridge. Use the family hub to order groceries online from its smart screen. Keep track of the expiration dates for food with a built-in management system. Use the built-in cameras to remotely view the contents of your fridge from your smart phone — so more forgetting your grocery list at home!
This has been a life-saver for me, because I am *terrible* at keeping track of expiration dates on food. You simply drag a date onto the item you want to make a note about and type in the info. I've started doing this every time I come home from the grocery store. Easy, peasy.
Family Connection with Samsung Smart Fridge
Share multiple calendars, photos, notes and more with the Family Hub. StickiBoard keeps track of multiple calendars and gives you fun facts from history.
The White Board can be used to leave notes directly on the 21.5-inch touchscreen or via the Family Hub app. This is my son's *favorite* part of the fridge — he can color and draw while I'm in the kitchen cooking dinner. It's a win-win for everyone!
Entertainment with Samsung Smart Fridge
Stream music via Pandora and TuneIn. The fridge has built-in speakers that sound amazing! We love rocking out to music while cleaning and cooking… And this makes it so easy!
If you have a Samsung Smart TV, you can also stream from the TV directly to the fridge — never miss a show while you're busy in the kitchen.
And use the Photo Album to display photos of your family when the fridge is in screensaver mode. This is definitely eye-catching and we've gotten so many compliments from guests about it!
Nebraska Furniture Mart Delivery
One of my favorite things about the fridge is that it came from Nebraska Furniture Mart. We've shopped with them so many times when furnishing our home because of their excellent delivery. This time it was no different.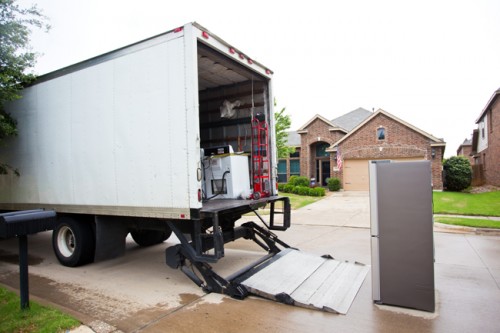 It started raining during delivery but that didn't stop our guys. They were so nice and helpful, and even moved our old refrigerator to the garage for me so that there was a place to put our new fridge.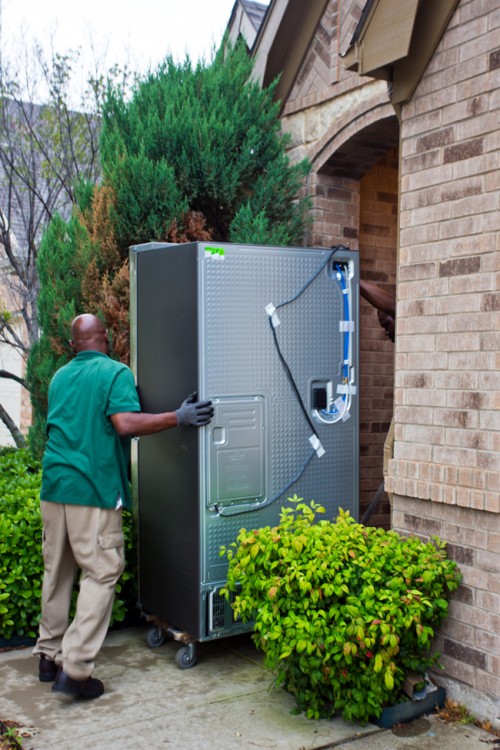 Moving this thing into our house was no easy feat, and these guys did it with a smile on their faces.
Make sure to check out the Samsung Smart Fridge at Nebraska Furniture Mart — they have an awesome price on it!
br>