Don't you just love the holiday season? It's magical – the lights, the decorations, spending time with friends and family.
Oh! And the food. Oh my goodness. The food.
So I was stoked when the Texas Beef Council contacted me to participate in their Celebrate the Holidays With Beef Challenge. Over the next four weeks, I and nine other Texas bloggers will be sharing holiday meals made with beef.
YUM!
This week, we're sharing appetizers that will make your holiday party ROCK! This Salsa Steak is an easy and flavorful appetizer that you can put together really quickly. It's perfect for a holiday party.
Grilled Salsa Steak Appetizer
Source: Texas Beef Council
Ingredients:
2 – 8 oz. flat iron steaks
1 c. prepared thick-and-chunky salsa, divided
1 to 2 Tbsp. chopped fresh cilantro
24 large corn tortilla chips
1/2 c. prepared guacamole (I like this recipe)
Directions:
Place steaks and 1/2 cup salsa in food-safe plastic bag; turn steaks to coat. Close bag securely and marinate in refrigerator 15 minutes to 2 hours.
Combine remaining 1/2 cup salsa and chopped cilantro. Cover and refrigerate until ready to use.
Remove the steaks from marinade and discard marinade. Place steaks on grid over medium, ash-covered coals. Grill, covered, 10 to 14 minutes (over medium heat on preheated gas grill, covered, 12 to 16 minutes) for medium rare (145 degrees) to medium (160 degrees) doneness, turning occasionally.
Or, if you don't have a grill or don't want to fire up the grill, use a grill pan on your stove. That's what I did!
Once the steaks are ready, carve them into thin slices, then cut them into bite-sized pieces.
Arrange chips on a platter and top each chip evenly with reserved salsa mixture, beef and guacamole.
Garnish with cilantro leaf, if desired. Serve immediately.
Enjoy!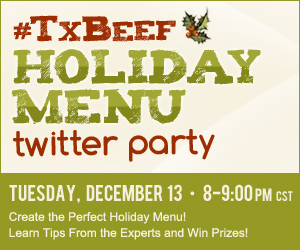 Want more ideas for holiday meals? Join us for the #TxBeef Holiday Menu Twitter Party for great tips and information to help you create the perfect holiday menu! Whether it's flavorful appetizers for a party, a roast for a family dinner, serving suggestions or brunch after opening presents, with a beef at the center of the table, everyone will be ready to celebrate! There will also be giveaways and a grand prize to help you get in the spirit!
Be sure to follow hostess @TexasHolly. We will be joined by experts from the Texas Beef Council – Chef Tiffany, Jason the Butcher and Nutrition Expert Lerin – who will be available to answer your questions.
I can't wait!
Disclosure: I am participating in a four week campaign with the Texas Beef Council and am being compensated. All opinions are my own. Recipes are courtesy the Texas Beef Council.
br>