One of my favorite things about Christmas is getting to spend time with my family. My sister and her family come visit from New Mexico and we all go to my parents' house. It's filled with grandkids and siblings and it's just so much fun.
I love waking up Christmas morning to a big family breakfast. The kids are excited and ready to open presents. It's such a great feeling.
This Southwest Breakfast Casserole from the Texas Beef Council is the perfect meal to serve on Christmas morning, or any time you have company over for breakfast.
Prepare the casserole the night before and let it set overnight so the flavors meld and the bread has a chance to expand and soak up the flavor.
Just pop it in the oven the next morning and you're ready for a wonderful meal!
And you can always find casserole pans in festive holiday colors to go with your color scheme and decorations. It adds to the experience and the spirit, don't you think?
Southwest Breakfast Casserole
Source: Texas Beef Council
Ingredients:
6 slices white bread, crust removed
1 lb beef sausage
4 c Colby/Montery Jack cheese
6 eggs
2 cans chopped green chiles
1 tsp salt
1 tsp dry mustard
2 c half-and-half
2 Tbsp butter or margarine, softened
Directions:
Spread butter on both sides of the bread and place in the bottom of a 9 x 13-inch baking dish.
In a skillet on medium heat, brown the sausage. Drain and pat dry with paper towels. Sprinkle browned sausage over the bread.
Then add the cheese on top of the sausage. Layer the green chiles on top of the cheese.
Beat the eggs lightly in a medium-sized bowl. Add the salt, mustard and half-and half and mix well.
Pour over the casserole. Cover in foil and refrigerate overnight.
To bake, preheat oven to 350 degrees F. Bake 45 minutes or until bubbly and slightly browned. Allow to stand for 15 minutes to set. Serve with picante sauce on the side!
Enjoy!
Be sure to check out the other nine Texas Beef Bloggers for their thoughts on the recipes!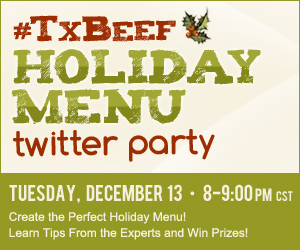 Want more ideas for holiday meals?
Join us for the #TxBeef Holiday Menu Twitter Party for great tips and information to help you create the perfect holiday menu! Whether it's flavorful appetizers for a party, a roast for a family dinner, serving suggestions or brunch after opening presents, with a beef at the center of the table, everyone will be ready to celebrate! There will also be giveaways and a grand prize to help you get in the spirit!
Be sure to follow hostess @TexasHolly. We will be joined by experts from the Texas Beef Council – Chef Tiffany, Jason the Butcher and Nutrition Expert Lerin – who will be available to answer your questions.
It's going to be so much fun!
Disclosure: I am participating in a four week campaign with the Texas Beef Council and am being compensated. All opinions and photos are my own. Recipes are courtesy the Texas Beef Council.
br>