We are just a *little* bit obsessed with bunnies in our house. I don't know if it's their fluffy tails or their long ears, or the fact that they *bounce,* but when spring rolls around, our toddler loves to point out each and every bunny he sees. So, I thought I'd give him a head start this Easter with this Bunny Easter Eggs Preschool Craft.
I love how cute these bunnies are! We went for a minimalist approach, but you could even glue some googly eyes on the eggs and I bet your kids would love them even more.
Bunny Easter Eggs
Supplies:
Hard-Boiled Eggs
Pipe Cleaners (You'll need three pipe cleaners — 2 of one color, 1 of another — for each egg)
Fine Tip Red Permanent Marker
Fine Tip Black Permanent Marker
Directions:
Using the red marker, draw a nose on the front of the egg.
Add a mouth and whiskers with the black marker.
Wrap a pipe cleaner around the bottom of the egg and twist it so that the ends for a "V" shape on top of the egg. Twist the end of another pipe cleaner of the same color onto one end of the "V" shape, and shape the second pipe cleaner to form the rest of the ears.
Cut a pipe cleaner of another color in half, and use each half to shape a loop on the inside of each ear.
Super-simple, and so much fun!
All this week, I've been sharing ways to decorate Easter eggs. Are you ready for the big day? See any ideas you can't wait to try?
What's your favorite way to decorate Easter eggs?
And don't miss my other ways to decorate Easter eggs!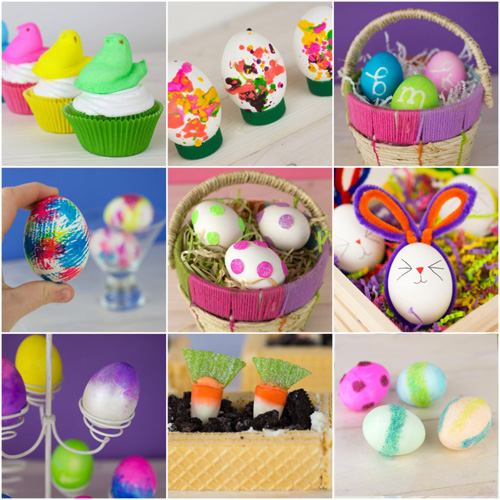 Peeps Cupcakes | Melted Crayon Easter Eggs | Monogram Easter Eggs
Tie Dye Easter Eggs | Glitter Dot Easter Eggs | Bunny Easter Eggs
Ombre Easter Eggs | Carrot Patch Cookies | Colored Sugar Easter Eggs
br>