I've seen these Glitter Dot Easter Eggs around the web, but I never thought they could be as easy as they are. There's a secret to getting perfectly-shaped glitter dots, and I can't wait to share it with you!
The secret is to use 3D glue dots so that the glue is lifted up off the eggs. That keeps the glitter from sticking to the shell of the egg, and makes it super-easy to wipe away any stray bits of glitter. I used neon colors to give my eggs a fun pop of color.
Ready to make your own?
Glitter Dot Easter Eggs
Supplies:
Hard-Boiled Eggs
Large 3D Glue Dots
Glitter in Assorted Colors
Small Paint Brush
Directions:
Make sure that your eggs are completely dry. They will need to be room temperature for the glue dots to stick.
Starting on one side of an egg, press glue dots onto the shell in a pattern around the entire egg.
Sprinkle glitter onto a paper plate, and press each glue dot into the glitter until it is coated. Don't roll the egg in the glitter, or the entire egg will be covered and you'll have a hard time getting the excess glitter off.
Continue around the entire egg, pressing the glue dots into the glitter. When finished, use the paint brush to brush away any excess glitter from the shell of the egg.
Display eggs as desired!
Check back all this week for more ways to decorate Easter eggs. I'll be sharing some of my favorites, including a few toddler-friendly ideas!
What's your favorite way to decorate Easter eggs?
And don't miss my other ways to decorate Easter eggs!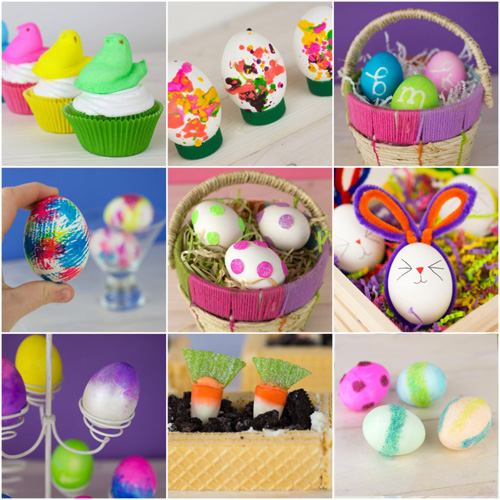 Peeps Cupcakes | Melted Crayon Easter Eggs | Monogram Easter Eggs
Tie Dye Easter Eggs | Glitter Dot Easter Eggs | Bunny Easter Eggs
Ombre Easter Eggs | Carrot Patch Cookies | Colored Sugar Easter Eggs
br>