All you need is some paper towels and food coloring to add a super-fun tie dye effect to your Easter eggs. I think this just might be my new favorite way to decorate hard-boiled eggs.
With a bunch of different colors, the creative possibilities are endless. My favorite part, though, is that it's really easy to clean up after decorating. No dye cups to spill — just throw away the paper towel when you're done with each egg!
Tie Dye Easter Eggs
Supplies:
Hard-Boiled Eggs, at Room Temperature
Paper Towels
Liquid Food Coloring (I used Neon Colors)
Directions:
Tightly wrap a paper towel around an egg. Drop a few drops of food coloring onto the paper towel, so it soaks through and colors the egg. Spread out the drops of the same color, leaving space between to add other colors.
Drop another color into the spaces left, and then repeat with a third color. Work your way around the entire egg, adding different drops of colors as you go. Don't try to do more than 3 colors per egg, or it will be too much.
Remove the paper towel to reveal the fun tie dye pattern! Allow the eggs to dry completely before using them.
Check back all this week for more ways to decorate Easter eggs. I'll be sharing some of my favorites, including a few toddler-friendly ideas!
What's your favorite way to decorate Easter eggs?
And don't miss my other ways to decorate Easter eggs!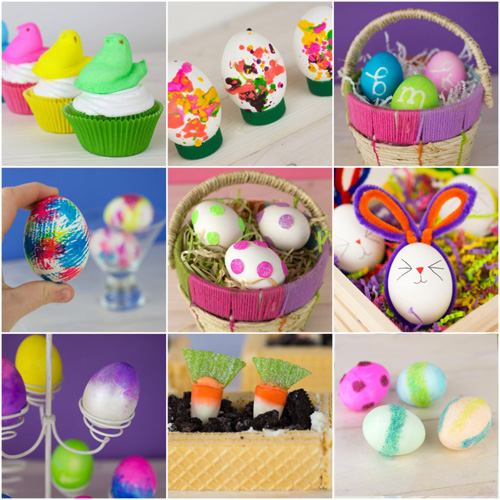 Peeps Cupcakes | Melted Crayon Easter Eggs | Monogram Easter Eggs
Tie Dye Easter Eggs | Glitter Dot Easter Eggs | Bunny Easter Eggs
Ombre Easter Eggs | Carrot Patch Cookies | Colored Sugar Easter Eggs
br>