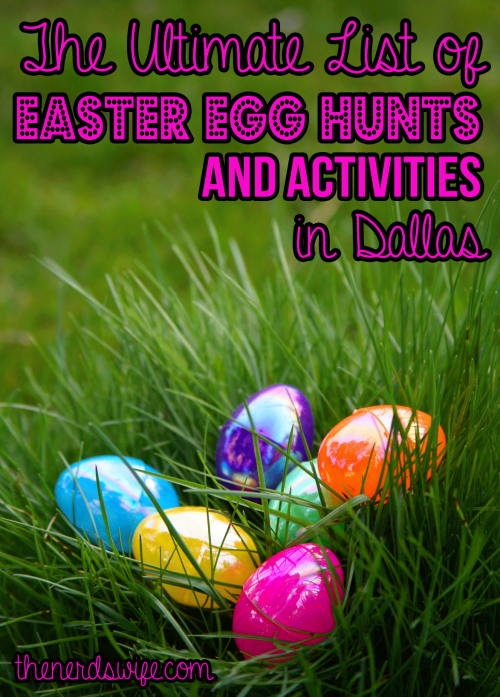 Can you believe that Easter is just around the corner? There are so many fun family-friendly activities in the Dallas area to celebrate Easter. I thought I'd put together a list of some activities and events that you may enjoy for the 2014 Easter season.
Easter Bunny Photo Experience in Grapevine (March 29–April 19)
Give your kids a chance to visit the Easter Bunny and take home a souvenir photo.
Dallas Moms Blog Egg Hunt (April 5)
The Dallas Moms Blog is hosting its First Annual Easter Egg Hunt benefiting the Dallas Children's Advocacy Center. From 9:30–11:30 a.m. enjoy a morning of Easter fun, food, treats, crafts, egg hunts, and a raffle. Tickets are $5 and must be purchased in advance.
Easter Eggstravaganza in Frisco (April 5)
Join the 22nd Annual Easter Eggstravaganza from 1–4 p.m., featuring bounce houses, face painting, an egg hunt at 2 p.m., and more. Ages 12 and under are invited to join this free event at the Toyota Soccer Center.
Easter Family Fun Night (April 6)
Join friends and family from 5–9 p.m. for an evening of Easter family fun at the Grapevine Convention Center. Price is $5 for ages 4–12, $10 ages 13 and up. Parent free with child. Family fun activities include, egg hunt, face painting, massages, facials/make-overs, bounce house, photo booth, Body Talk Fit-Cardio dance party, shopping, and more.
27th Annual Funny Bunny Festival in Lewisville (April 12)
Play carnival games, get a face painting, and hunt for eggs. Souvenir photos will be available at a small cost. The Lewisville Noon Rotary Club will serve pancake breakfast. Adults $3, $2 children, free under 3 years.
Breakfast with the Easter Bunny in Frisco (April 12)
Register to have breakfast at the Westin Stonebriar Resort and get a visit from the Easter Bunny. From 9–11 a.m. enjoy a breakfast buffet, egg hunt, crafts, silent auction, raffle, and goodie bags. Adults $35, children $30.
Bunny Brunch in Mansfield (April 12)
Join the Easter Bunny for brunch at the Mansfield Activity Center, then do crafts, face painting, and more from 9–11 a.m. Adults $5, children $4. Save $1 per ticket with current MAC card. Online registration ends April 10.
Easter Egg Hunt and Pancake Breakfast (April 12)
Central Christian Church is hosting its annual egg hunt with other 2,500 eggs. Join them for a pancake breakfast followed by a children's sing-a-long at 9 a.m.
Easter Eggstravaganza in Addison (April 12)
This free event at the Les Lacs Park starts at 10 a.m. and runs until noon. There will be refreshments served, hundred of eggs to find, a petting zoo, prizes, and a visit from the East Bunny.
Kidgits Club Easter Egg-stravaganza in Hurst (April 12)
Enjoy 11:00 a.m. brunch with the Easter Bunny at the North East Mall Kidgits Club. Activities include cookie decorating, balloon twisters, face painting, bunny hop sac races, and more. Participants will receive a Kidgits Easter bucket and bunny ears to take home.
Kidsfest in Garland (April 12)
Join nearly 8,000 families for entertainment and activities at the 8th Annual Kidsfest from 11 a.m.–2 p.m. at the Firewheel Town Center. Activities include an egg hunt, face painting, video game trucks, bounce house, Radio Disney broadcast, and more. Free.
Nash Farm Annual Eater Egg Hunt (April 12)
Sponsored by the Grapevine Parks and Recreation Department, this egg hunt is open to the public from 9:30 a.m.–12:30 p.m.
West Dallas Eggstravaganza (April 12)
This massive Easter celebration begins at 11 a.m. and is hosted by more than 300 volunteers. Activities include egg hunts for all ages, food, crafts, games, inflatables, petting zoo, clowns, sno cones, popcorn, cotton candy, climbing wall, and more. Free. Register here.
City of Southlake Easter in the Park (April 13)
Egg hunts, entertainment, balloon artists, photos with the Easter Bunny, and more are included in this free event from 1:30 p.m.–4:30 p.m.
Family Past Times: Egg Roll (with same eggs used on White House lawn!)
See the Dallas Heritage Village at Old Park City in full bloom. From noon–4 p.m. make a basket with flowers and then enjoy a White House-style traditional egg roll race using eggs used on the White House lawn! Adults $9, seniors $7, kids free.
TCU Easter Egg and Alumni Family Picnic (April 13)
TCU will hosts its 20th Annual East Egg Hunt and Alumni Family Picnic from 12:30–3 p.m. Bring your own food and blankets and enjoy balloon animals and an egg hunt. Event is free for all ages, but registration is required.
Easter Weekend at the Dallas Arboretum (April 18–20)
Enjoy the Dallas Child Eddie Coker Children's Concert at 11 a.m. and 2 p.m. on April 18. From 10 a.m.–2 p.m. on the 18th and noon–4 p.m. on April 19th and 20th, enjoy children's activities such as face painting, a petting zoo, and portraits with a live bunny.
Community Easter Egg Hunt (April 19)
Holy Cross Lutheran Church is hosting its annual Easter gg hunt, rain or shine at 9:30 a.m. There will be bounce houses, games and prizes, a petting zoo, crafts, snacks, face painting, and the Easter Bunny. Free.
Moorland Family YMCA Healthy Kids Day and Easter Egg Hunt (April 19)
Moorland Family YMCA is celebrating Kids Day with an Easter egg hunt. The free event is from 10 a.m.–1 p.m. The event includes camp registration, Zumba, line dancing, a bike giveaway, bounce houses, and arts and crafts. Free.
Spring Eggstravaganza Family Fun Day in Keller (April 19)
Join the First Baptist Church for a free day of activities including an egg hunt, bounce house, face painting, train, and refreshments. There will be photo ops with the Easter Bunny, too. Buy tickets online.
St. Andrew United Methodist Church Egg Hunt (April 19)
Hunt for more than 5,000 eggs. Event fee: $5 per child. Registration is available online. Hot dogs, chips, cookies, and drinks will be available for sale to benefit the St. Andrew Confirmation Class. 10 a.m.–12:30 p.m.
Texas Sized Easter Celebration at Fort Worth Stockyards (April 19)
Experience Easter in true Texas style! The egg hunt for all ages begins at noon. Other activities include visiting the Easter bunny, face painting, a balloon animal maker, and more. Free admission.
Celebrate Easter in The Colony (April 20)
Celebrate with Easter brunch at the Tribute Golf Links. Kids enjoy as egg hunt following brunch. Photos with the Easter Bunny are available. Tickets: adults $29.95; ages 6–17 $14.95; kids 5 and under free with adult ticket purchase.
Easter Ballroom Brunch in Grapevine (April 20)
Dine at the Gaylord Texan Hotel for an Easter Ballroom Brunch including chilled salads, smoked fish, sushi, crab, made-to-order omelets, leg of lamb, prime rib, and more. 10 a.m.–1:30 p.m. Adults $71, ages 4–12 $29, 3 and under free.
Easter Egg Hunt (April 20)
Connection Point Church is hosting an egg hunt immediately following its services. Activities will include a fire truck and bounce houses. Free.
Easter 'Egg-Stravaganza' in McKinney (April 20)
Children under 8 years old will hunt for over 30,000 eggs at the McKinney Soccer Complex at Craig Ranch. Other activities include a visit from the Easter Bunny, bounce houses, train rides, games, and prizes. Free. 11 a.m.
Now that you know where to hunt the eggs, it's time to decorate them! Check out some of my favorite ways to decorate Easter eggs for some inspiration. Are you ready for the big day? See any ideas you can't wait to try?

Where does your family go to hunt Easter eggs?
br>