You've seen them all around Pinterest: Red, white and blue layered drinks to celebrate America's birthday.
It's an ingenious idea… the trick is to layer the different drinks by sugar content, so the drink with the most sugar per serving is on the bottom. The next highest is in the middle and the drink with the least amount of sugar per serving is on the top.
Since I first saw it, I wanted to try this idea. I bought the drinks and read this post from Our Best Bites on how they did it.
With some trial and error, I was able to come up with a semi-layered Fourth of July drink. I thought I'd share my experience with you all so you wouldn't have to go through the same wasteful attempts as I did.
If you're going to put a straw in the glass, DO THIS FIRST. You'll see why in the next tip.
You'll need A LOT of ice. I mean, seriously. If you think you have too much ice, add some more. Pack it in there. It helps separate the layers and you'll need plenty of ice to pour the layers onto. As you add the different drinks, though, the ice will freeze together and you won't be able to get a straw down to the bottom. See Tip #1.
Use as little RED DRINK as possible. I use Hawaiian Punch, because it has a lot of sugar content. But the red and blue tend to mix together and make a purplish-blue layer between them. That's ok. You'll still be able to see the distinctive red at the bottom, but you'll need a lot of blue to be able to see it.
Pour the middle and top layers of drink SLOWLY. Like, dribble it in there. And pour them down the side of the glass onto a piece of ice. That will help prevent mixing.
Finish your drink QUICKLY. Or, if you're going to take photos of it in the Texas heat, do it fast. Don't be dumb like me. The layers don't last long… as the ice melts, it mixes them and then you end up with a giant red layer and white layer, like I did.
Did you try to make layered drinks? Let me know how they turned out!
And don't miss these yummy patriotic recipes!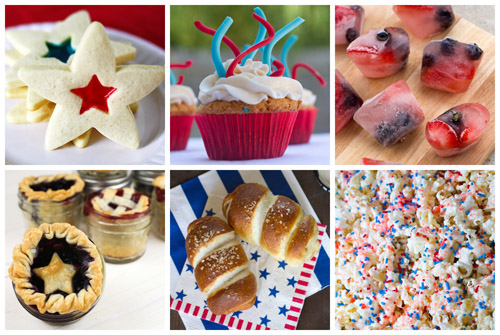 Star-Spangled Sugar Cookies | Sparkler Cupcakes | Fruit-Infused Ice Cubes
Patriotic Pies in a Jar | Pretzel Hot Dogs | Firecracker Popcorn
br>