I'm feeling very patriotic today. And not just because it's the Fourth of July.
You see, pretzels and hot dogs make me think of baseball. And baseball makes me think of the Texas Rangers. And the Texas Rangers make me think of red, white and blue. I mean, what's more American than pretzels, hot dogs and baseball?
Nothing, I tell you.
So because it's Independence Day, I thought I'd share this yummy recipe with you. It combines two of the three things that make America so great, and you can't be that.
Pretzel Hot Dogs
Source: Joy the Baker
Ingredients:
8 hot dogs, cut in half
1 1/2 c warm water
1 Tbsp granulated sugar
1 pkg active dry yeast
4 1/2 c all-purpose flour
2 tsp salt
2 Tbsp butter, melted and cooled
8 c water
1/2 c baking soda
1 large egg, beaten, with splash of water
Ground sea salt and black pepper for topping
Directions:
In the bowl of a stand mixer fitted with the dough hook, combine warm water and sugar. Sprinkle the yeast on top and set aside for five minutes. It will begin to froth and bubble.
Turn the mixer on low and add the salt, flour and butter (Don't be a dweeb like me and almost forget to add the butter). Mix until well combined. Increase to medium speed and knead until the dough is smooth and pulls away from the sides of the bowl. It will begin to form a ball around the dough hook. Knead for four more minutes.
Remove the dough from the bowl and wash it to remove any residue. Coat the bowl with oil and return the dough to it. Sprinkle a bit of flour on top of the dough and cover with saran wrap. Place in a warm area and let it rise for 1 hour.
Preheat oven to 425 degrees F.
Once the dough has risen, cut it into 16 equal pieces. Roll each piece into a thin rope about 12 inches long. Wrap the rope of dough around one of the hot dog halves, making sure to seal the ends. Press the layers of dough together so that there are no spaces. You want it completely sealed.
Repeat with all pieces of dough and hot dogs.
Boil the water and baking soda. Add the pretzel dogs a few at a time, boiling each for 30 seconds. Remove with a flat, slotted spatula and place on a baking sheet lined with a Silpat or parchment paper.
If they become unraveled in the boiling water, just press them back together. I promise it's fine.
Brush tops of the pretzel dogs with egg mixture. Sprinkle salt and pepper on top.
Bake 14-18 minutes until golden brown. Remove and place on a drying rack. Serve warm.
Enjoy!
What are you doing to celebrate today?
And don't miss these yummy patriotic recipes!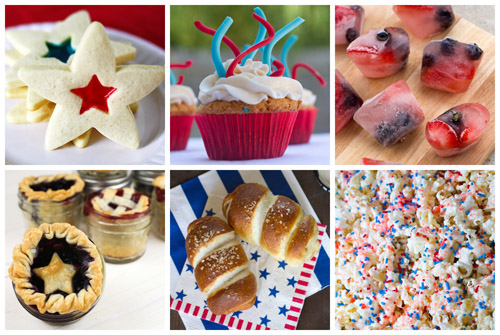 Star-Spangled Sugar Cookies | Sparkler Cupcakes | Fruit-Infused Ice Cubes
Patriotic Pies in a Jar | Pretzel Hot Dogs | Firecracker Popcorn
br>