Last week, we had the chance to check out the all-new Pacific Point Preserve and Sea Lion High at SeaWorld San Antonio. The sea lions are one of my son's favorite animals in the park, so we've really missed them during construction. He was so excited to get to see them again!
The sea lion habitat is truly awesome — I could just stay there watching the animals sun on the rocks, then dive down into the water. They play with each other and it looks like they're having so much fun!
Feeding the sea lions is *almost* as fun as feeding a dolphin. We make sure to stop by and get a tray of fish to give the sea lions a treat!
They were definitely ready for it! They came right up beneath us and barked at Andrew until he threw the fish down!
The area features artwork from local children, which is such a fun touch!
After seeing the sea lions up close, we headed into the stadium to watch the all-new Sea Lion High show.
It was a riot! The antics of Seamore and Clyde were too funny. From dancing the tango to saving a cast member from an exploding water tower (Watch out! You'll get WET!), the show is filled with laughs and excitement!
Plus, it even features an awesome message about conservation and recycling.
If you're headed to SeaWorld San Antonio, you don't want to miss this awesome adventure!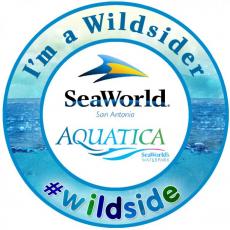 Disclosure: I'm a SeaWorld Wildside blogger. I receive complimentary passes for my family and other perks throughout the year. All opinions and photos are mine.
br>