Disclosure: Complimentary products were received to facilitate this post. All opinions are my own.
With as many photos as I take, it can be quite a challenge to keep them all in order. Over the years, I've developed a system, and wanted to share some tips on How to Organize Your Digital Photos.
How to Organize Your Digital Photos
1. Download Your Photos As Soon As You Can.
I used have about a dozen SD cards floating around with photos on them, just waiting to be downloaded onto my computer. It was awful. I could never remember which ones had been downloaded. It was chaos.
Now, when I go to an event or take photos of my son, I immediately put the card in my computer and download the pics onto it. It gets the photos off my card and into a safe place. And I don't ever have to worry about accidentally deleting photos off a card that haven't been downloaded.
2. Use Catalog Software To Import Photos.
Catalog software makes it super-easy to keep photos organized on your computer. My personal favorite is Adobe Lightroom, but iPhoto and Picasa are great free alternatives.
Use the software to assign tags to photos so that you can search, if needed. For instance, I always tag photos of my son with his name. I also tag food, recipes, seasons, occasions, locations, etc.
As you import photos, make sure to rename them using their subject. Don't leave the file names as is. Describe what's going on in the photos so that you can easily find them later.
3. Set Up a Subfolder System.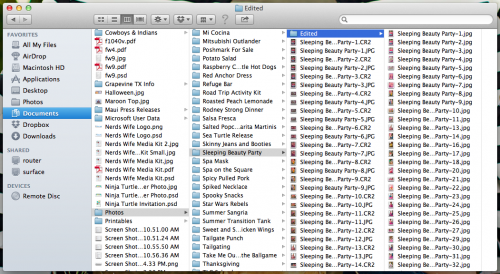 Here's how I have my folders set up on my computer. I have a "Photos" folder inside "Documents." Then, each event gets its own folder with a descriptive name, where I import all of the unedited photos. Inside that, I add an "Edited" folder where I store all of the finalized versions of the photos.
4. Back Up Your Photos!
If you do nothing else, make sure to back up your photos — online and on disk. I have an external hard drive where I keep all of my old photos (organized by year) backed up. I also use Flickr to store all of my edited photos online. It's a great system and you can sort for old photos using the tags and descriptive names that you set up earlier.
Now What?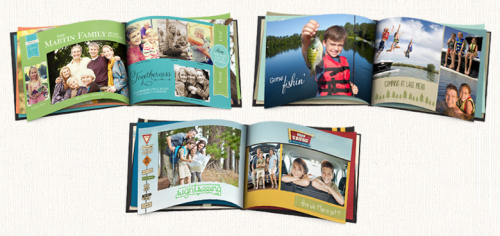 Now that you've got your photos organized, it's time to show them off! Snapfish's custom lay-flat photobooks are the perfect way to print and store your photos. You don't want them just taking up space on your computer, right? These beautiful photobooks will become treasured keepsakes for your family.
Here are some great deals to get you started:
Earn up to 20% cash back on your purchase when you order through ShopAtHome.com.
Win a $100 voucher to Snapfish!

The folks at ShopAtHome.com have provided a $100 voucher to Snapfish for a lucky reader! Enter using the form below, and let me know who you'd make a photobook for in the comments!
br>