I have so many fond memories of Easter as a child. We would visit my great-grandmother's house for a huge egg hunt with all of our extended family — I looked forward to that every year. The best part of Easter for me was always decorating the eggs.
You can do lots of fun things with blown-out eggs for Easter, like this Ombre Easter Egg tutorial that I found that used spray paint. But with a small child who doesn't quite understand what a "blown-out" egg is, I wanted to see if I could do something similar to a hard-boiled egg using paint that was safe to eat.
And with Wilton Color Mist™ Food Color Spray, you can.
Ombre Easter Eggs
Supplies:
Hard-Boiled Eggs
Wilton Color Mist™ Food Color Spray
Styrofoam Egg Tray, cut into sections
Directions:
Set an egg in a cavity of the egg tray, and lightly spray the top of the egg with the first color. It might take some practice to get it just right. You don't want to spray too hard or too much, or the color will run and won't fade well.
You get an ombre effect when the top of the egg is darker than the middle part of the egg. I used light sprays to fill in the color on the middle of the egg, and harder sprays at the top.
Allow the eggs to sit and the first color to dry completely before moving on to the second.
When the eggs are totally dry, flip them over and repeat, then allow them to dry again. I used Silver, Blue, Purple, and Pink spray colors. I really like the effect that the silver had.
Now you're ready for a fun and colorful Easter egg hunt!
Check back all this week for more ways to decorate Easter eggs. I'll be sharing some of my favorites, including a few toddler-friendly ideas!
What's your favorite way to decorate Easter eggs?
And don't miss my other ways to decorate Easter eggs!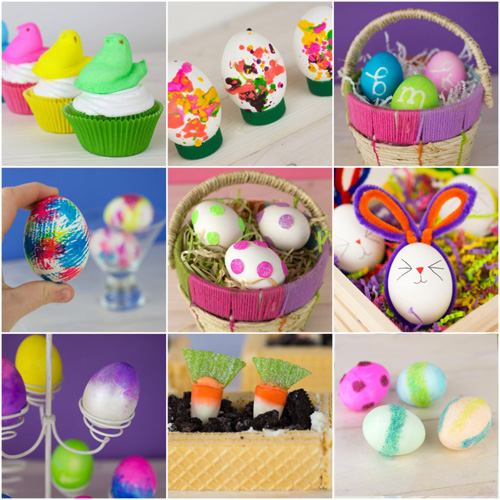 Peeps Cupcakes | Melted Crayon Easter Eggs | Monogram Easter Eggs
Tie Dye Easter Eggs | Glitter Dot Easter Eggs | Bunny Easter Eggs
Ombre Easter Eggs | Carrot Patch Cookies | Colored Sugar Easter Eggs
br>