This shop has been compensated by Collective Bias, Inc. and its advertiser. All opinions are mine alone.
#SparkRebellion #CollectiveBias 
Have you seen the previews for the all-new Star Wars Rebels show on the Disney Channel? My son is so excited for it! To spark his imagination, I created this No-Sew Star Wars Rebels Pilot Costume so he can pretend to be one of the Ghost's crew members right alongside the show!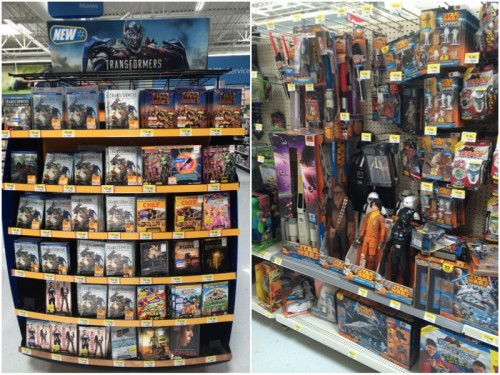 To get ready for the show's premiere, we picked up the Star Wars Rebels DVD from Walmart, where it is available exclusively from 10/3 to 10/13. We also took at look at the Star Wars toys on the toy aisle — there are so many that look awesome!
Andrew really liked the Inquisitor lightsaber. The Nerd was intrigued by the Star Wars Command Destroyer.
In the end, we ended up getting the Star Wars Rebels Millennium Falcon. Both boys were super-happy!
Andrew couldn't wait to play with his new toys when we got home. We put on the DVD and he played right along with the characters.
No-Sew Star Wars Rebels Pilot Costume
Supplies:
1 yard brown fabric
Orange duct tape
Dark brown foam (or felt)
Light brown foam (or felt)
Clear tacky glue
Ghost Insignia Template
Directions:
Cut your fabric into a long rectangle. I made mine 12-inches by 48-inches. Fold it in half, and cut out a small neck hole in the fold. Then, cut an opening from the neck hole down the front of the fabric to make a vest shape.
Wrap the duct tape around the edges of the fabric to line it. You'll also use the duct tape to attach the front and back beneath the arm holes.
Here's what it should look like when the vest is fully lined and assembled.
Use this template to cut out the pieces for the Ghost Insignia. The background circle should be in light brown and the ghost symbol should be in dark brown. Glue the pieces together, then glue onto the front of the vest.
Isn't it cool?
I may never get him to take it off.
We're having too much fun with the #StarWars Rebels toys and DVD… #SparkRebellion #Shop
Do your kids like to dress up when they play?
br>