This is the first Halloween that Andrew will be old enough to decorate pumpkins. I haven't wanted to break out the knives and carving kit just yet, so I've been working on some no-carve decorating ideas. This Melted Crayon Pumpkin is so fun. I love the way it turned out!
Ever since I made these melted crayon Valentines last year, I've wanted to try my hand at other melted crayon art. A Melted Crayon Pumpkin seemed like it would be the perfect addition to our Halloween decor!
Andrew loved helping me point the blow dryer at the crayons and melt them. We got to talk about the process of melting the crayons, and it turned into a fun lesson for him. This is a super-messy activity, though — make sure to lay down something to cover your work area and wear clothes that you don't mind getting wax on!
Melted Crayon Pumpkin
Supplies:
White Foam Pumpkin
Crayons
Fast-Dry Tacky Glue
Blow Dryer
Directions:
First, use a very sharp knife to cut off the wrappers from the crayons. Cut them in half.
Use the glue to secure the crayon halves around the top of the pumpkin. Allow to dry completely.
Turn the blow dryer on high heat, and point it at the crayons to melt them. The melted wax will run down the pumpkin and make fun patterns. Make sure to keep the blow dryer pointed at a downward angle so that the lines of wax look consistent.
Allow the wax to harden completely.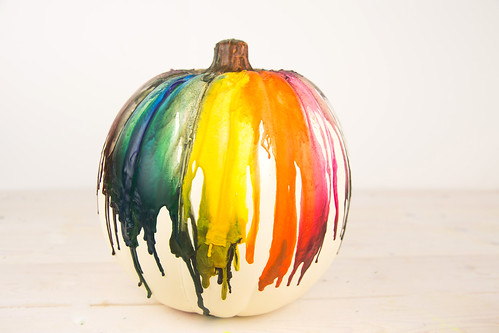 Isn't it fun?
Here's another fun Halloween project!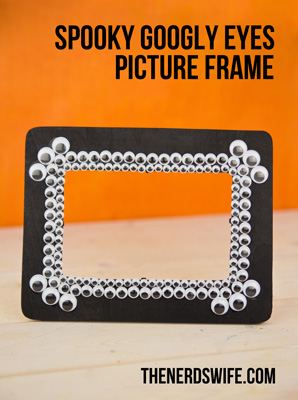 Spooky Googly Eyes Picture Frame
And check out these other fun Halloween ideas!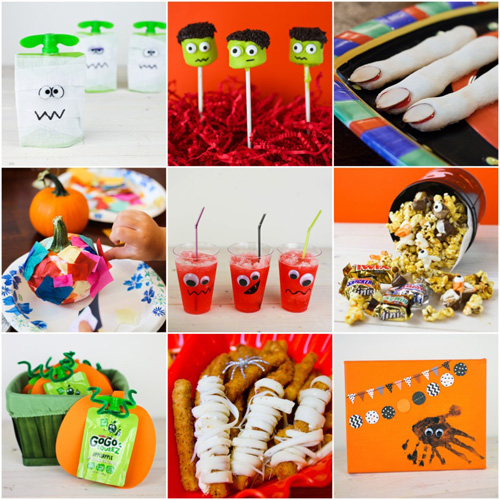 Mummy Applesauce Pouches | Frankenstein Marshmallow Pops | Dead Lady Fingers
Patchwork Pumpkins Craft | Monster Mash Punch | Spooky Candy Caramel Corn
Pumpkin Applesauce Pouches | Mummy Chicken Fingers | Spider Handprint Craft
br>