I made this Low-Calorie Cinnamon Hot Cocoa Mix with Sweet'N Low as part of a sponsored post for Socialstars. #SweetNLowStars
Hot Cocoa is one of my favorite drinks during the winter, but I often feel guilty about drinking those extra calories. This Low-Calorie Cinnamon Hot Cocoa Mix is the perfect solution, using Sweet'N Low to make it less than 100 calories a cup! That's what I'm talking about!
Adding a bit of cinnamon flavor takes traditional hot cocoa up a notch. It gives it a needed spice on a cold winter night. Package this Low-Calorie Cinnamon Hot Cocoa Mix in 8-oz mason jars (with mini marshmallows added to fill empty space) and attach these cute printable tags for a perfect holiday gift.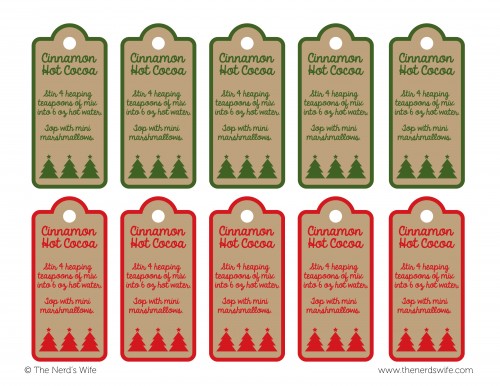 Click here to download these free printable gift tags.
Low-Calorie Cinnamon Hot Cocoa Mix
Ingredients:
2 Tbsp unsweetened cocoa
1 cup instant non-fat dry milk
5 packets Sweet'N Low
1 tsp ground cinnamon
Directions:
Whisk together all ingredients in a large bowl. Pour low-calorie cinnamon hot cocoa mix into mason jars.
This recipe makes enough to fill one 8-oz mason jar. I filled two jars halfway and filled in the empty spaces with mini marshmallows.
To drink, add 4 heaping teaspoons of powder into 6 oz hot water and stir well.
Enjoy!
For more delicious low-calorie recipes, connect with Sweet'N Low on Facebook.
For another fun holiday gift, make sure to check out my Hot Chocolate Spoons: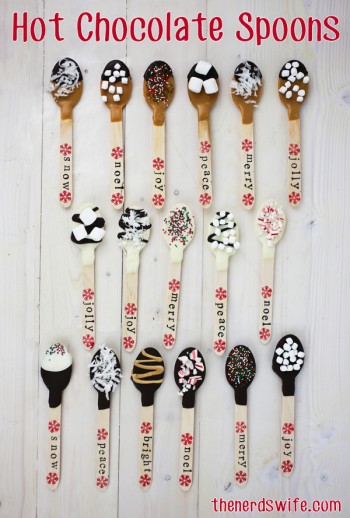 What's your favorite way to serve hot cocoa?
br>