Disclosure: This is a sponsored post on behalf of the Trust for Public Land. All opinions and photos are my own.
We've been spending lots of time at my parents' house on the Texas Gulf Coast, and sometimes it can be hard when cabin fever sets in. We love visiting Padre Island National Seashore in the Winter to get out of the house and learn more about nature and the world around us. You might not think of visiting the beach during the winter, but if you're a nature enthusiast, that can be the best time to go.
Visiting Padre Island National Seashore in the Winter
Winters tend to be mild, so the temperature isn't too bad. A light jacket keeps the wind at bay. The sand dunes are covered in flowers, vines, and other vegetation, making them fun to climb up and explore. It's such a different sight from the summer, where it's just sand for miles and miles.
The beach is deserted, save for some seagulls wading along the shore. It's perfect for a little boy who loves to splash in the shallow waves, searching for seashells and chasing the gulls. We spend hours here: splashing, chasing, digging, and just enjoying the sound of the waves.
It's so nice to have the beach to ourselves, reveling in the beauty of nature all around us.
Before leaving, we stop by the Malaquite Beach Visitor's Center to read more about the plants and animals that we've observed. A sign lists a Junior Park Ranger activity, so we head inside to learn more. That leads to even more learning and discovery — answering questions in a workbook to earn our Junior Park Ranger badge.
The sight of my three-year-old promising to protect the land and all its treasures sends a wave of pride through me — he loves it here, and is learning at a young age just how important it is to protect the natural world around us.
That's why we support the work of The Trust for Public Land, an organization whose mission it is to create and protect parks and other natural places, right in your own backyard.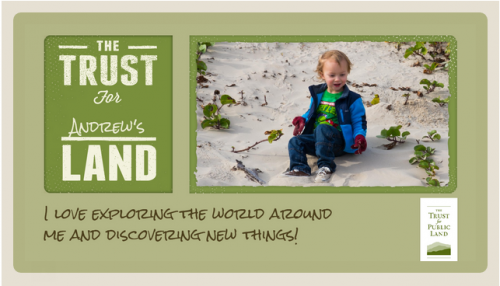 Share your story and help protect the places you love by creating your own virtual postcard. Learn more about the Trust For Public Land in this video:
Where do you take your family to enjoy nature?
br>