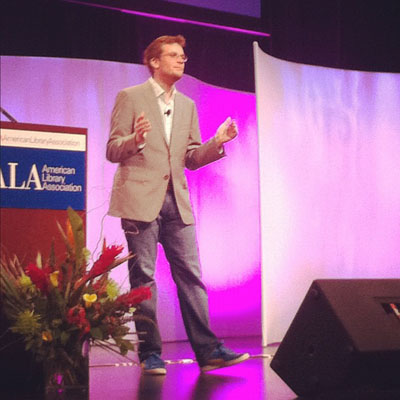 Earlier this year, I got to attend the American Library Association's Midwinter convention in Dallas. Not only was it an awesome opportunity to connect with publishers and score some books that I was super-excited about, but the keynote speaker was one I couldn't miss: John Green.
If you don't know John from his amazing novels (Looking for Alaska, An Abundance of Katherines and Paper Towns, just to name a few) you might know him from the Vlog Brothers YouTube channel, where he and his brother Hank send each other weekly updates. It's really great.
John is known for his social media prowess and he spent some time during his address to a room full of librarians discussing the merits of social media and how they can use social media communities to impact the lives of youth who frequent their libraries.
It was a really interesting lecture, and I'm so glad I got to attend. Here are some of my favorite quotes from John during the address, which I tweeted:
"I like talking about stuff I find interesting with people I find interesting. That's what digital media is about."

"People are building real life connections in real places online."

"We can use online communities to respond quickly and efficiently to the kinds of projects that get us excited."

"Now we can have these much more meaningful connections with people who live much differently than us."

"Libraries help people toward answering the overwhelming question of what we are going to do with our human lives."

"One of the things I love about books is you can't do anything else while reading. It's the last thing you can't multitask."

"I like writing for teenagers because I find them interesting. But not in a creepy way."

"They're going thru things for the 1st time: falling in love for the 1st time. They're experiencing loss for the 1st time."

"This story (The Fault in Our Stars) is the one I wanted to tell. And I kept coming back to it."
 After the keynote, John signed copies of his new book, The Fault in Our Stars, and, of course, I scored a copy for one of you!
Enter using the Rafflecopter form below. 
Contest open to US and Canada only. Must be 13 years or older to enter.
Contest Ends 4/5. Good luck!
br>