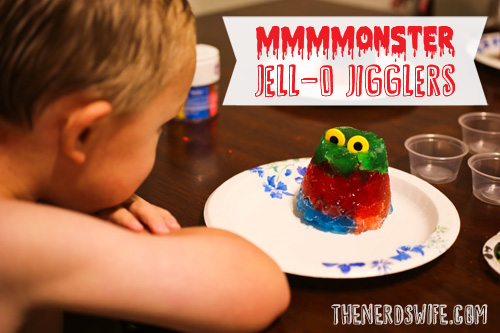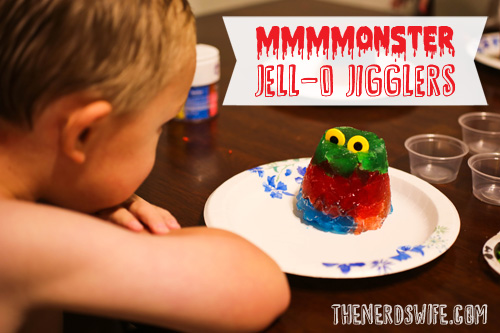 What do you do when you have 7 kids under 5 together in one house? You find lots of creative ways to entertain them! My sister's family drove in from New Mexico last weekend for a visit, and it was the first time the cousins had been together in a while. I wanted to do something fun with them, so we decided to put a fun twist on MMMMonster JELL-O JIGGLERS!
After the younger kids were put in bed, I stayed up with the older ones to get some time with them and make this fun recipe. When you've got lots of littles around, there's a tendency to give all the attention to the babies. But the older kids need attention, too, and this was the perfect opportunity for us to spend some time together.
This recipe is so easy, and the kids were so excited to make them! I wanted to let the kids add their own flair to the monsters, so we made a bunch of different flavors and layered them in the molds. I also bought some candy eyes and sprinkles so that each kid could decorate their monster however they chose.
It was really neat to see their creativity come to life. River's monster was mostly pink and purple. Hyrum's had yellow eyes. Eli's was bald, because he ate all the sprinkles instead of putting them on his monster. And Benson's monster had two different colored eyes.
You can download the original MMMMonster JELL-O JIGGLERS recipe, or do what we did and mix it up with a bunch of different flavors.
Follow the same directions, but instead of just using lime and grape JELL-O, add in some other colors and layer them in the cups.
Really dig in. Spoons are overrated, you know.
Then, add candy eyes and sprinkles to give the finished monsters some unique flair.
It really was a fun activity that everyone could get involved in. The best part, though, was eating the finished product!
We did this activity on the night before Hyrum and Benson left to go home. It was a great way to end their trip, and we made lots of memories to cherish until the next time we're all together again.
Looking for other Halloween activities?
Check out these other fun recipes from JELL-O!
Creepy Crawly JIGGLERS
Halloween Cat Eyes JIGGLERS
Halloween JIGGLERS Hands
I was selected for this opportunity as a member of Clever Girls Collective and the content and opinions expressed here are all my own.