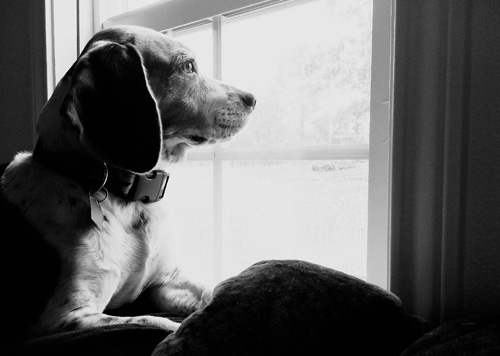 I cried myself to sleep last night. The grief and shock of the past few days finally caught up with me. It racked my body and tore at my soul with each sob that escaped my lips. During the daylight hours, I held it back. But once I was safely in the dark of my bedroom, I let the flood gates open.
We visited my brother over the weekend. Late Friday night, James went to let Georgie and Kaylee back inside after a potty break. He couldn't find them. After searching for a while, he found Kaylee hiding in some bushes at the border of my brother's property, cut and bleeding. He rushed her inside, and we knew immediately that she'd been attacked by the neighbor's dogs.
We ran into the night, searching for Georgie. Calling his name. I'll never forget the terror that knotted my stomach. James found him in front of the neighbor's house. He said he heard Georgie wimper, and watched as the three attacking dogs went back to finish mauling him. James ran them off, grabbed Georgie, and we rushed to take him to a nearby family friend's vet office.
Georgie was in shock and out of it. He couldn't move his back legs. Blood matted his fur and his mouth wouldn't stop bleeding. It was horrible, and I drove as fast as I could.
In the exam room, I petted his face and tried to comfort him. His injuries weren't as bad as we thought, and everyone thought he'd be ok. We took him home, put him to bed and waited to see what the morning would bring.
Things seemed better by the light of day. Georgie was alert and awake. He kept trying to stand, but his back legs wouldn't support his weight. But things went downhill fast. He stopped responding to us, and he died in my arms. I remember begging him to hang on, petting him and telling him how sorry I was that I let him down.
I was supposed to protect him. I was supposed to be there for him.
I couldn't help but feel like this was all my fault.
The vet said he must have suffered a blood clot. Georgie's death was quick and painless.
And it broke my heart.
But I held it inside. Andrew is too young to understand all that happened. He probably doesn't even realize that Georgie is gone. I knew that if I gave in to the grief, though, it would overwhelm me and Andrew would be able to see it.
The morning that we left to come home, I couldn't hold it back. Kaylee sat on the back of the couch, staring out the window as if she was waiting for Georgie to come home. Tears filled my eyes as I snapped this photo of her, knowing that she won't ever truly understand what happened. And I gave myself a few minutes to grieve.
Then, Andrew toddled up to me, patted my knee and said, "It's ok."
If only it was.
As a mom, you sometimes have to put your own feelings aside and do what's best for your child. All weekend, I did that.
But last night, I cried.
br>