Disclosure: This is a sponsored post written by me on behalf of BeautyStat. All opinions are my own and not edited by the sponsor.
As a boy mom, one thing I never thought I'd have to worry much about is styling hair. Boy, was I wrong. My kiddo was born bald and his hair has come slowly — and thinly. Which means that when he wakes up every morning, we have to tackle a case of crazy hair.
When I found SoCozy, a new line of salon formula kids hair care products available at Target, I finally discovered How To Get Rid of Bed Head. SoCozy products are non-toxic and made without parabens, sulfates, phthalates, synthetic color, propylene glycol, gluten, wheat or nuts.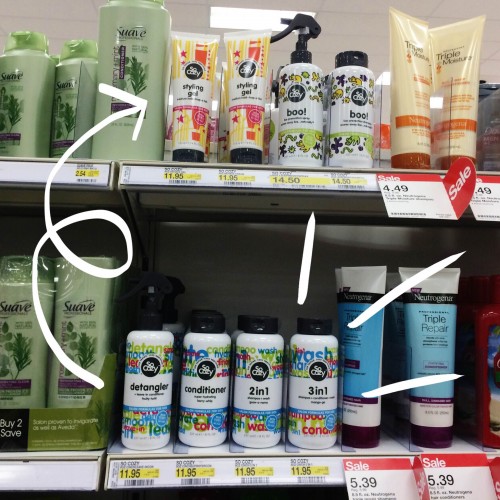 SoCozy products are located in the "Hair Essentials" aisle near the Women's Hair Care products at your local Target. You can also find them at SoCozy.com and Target.com.
And as a mom, I'm always looking for ways to save. SoCozy Stylers is a free rewards program to join that rewards social sharing. We all share anyway, why not get something for it!
How to Get Rid of Bed Head
I've found when we are consistent with this routine, Andrew's hair tends to be tamer. So it's important to get into a routine and stick to it!
We start with the SoCozy 3in1 Shampoo, Conditioner, and Body Wash. I love multi-purpose products that allow me to make the most of our time. It's important to get a good, deep wash.
With damp hair, spray on SoCozy Detangler and use a Wet Brush to work through any tangles.
Follow by rubbing a bit of SoCozy Styling Gel into your palms and smoothing the hair. You can also use it to enhance curls.
I was so impressed with these products — they smelled great and worked even better. Two things that are high priority when dealing with a wiggly toddler's crazy hair.
Do you have any advice for dealing with bed head in little ones?
I received products to review and compensation from BeautyStat.com for this post. My opinion is my own and not edited by BeautyStat, please read my Disclosure Policy for more info.
br>