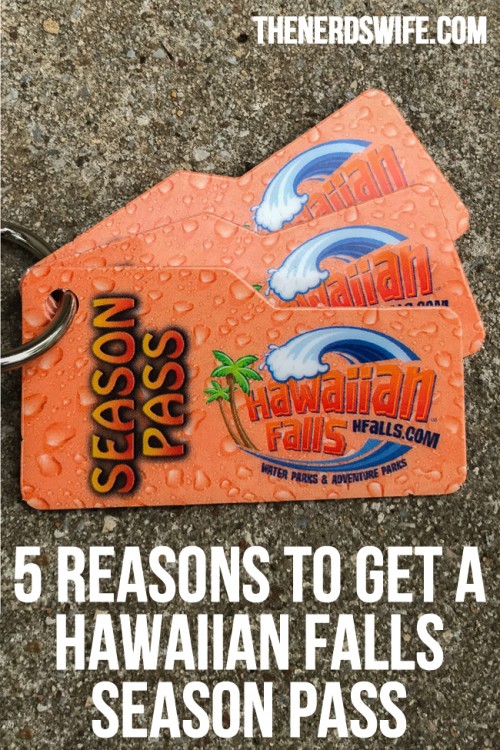 One thing my family looks forward to every summer is visiting Hawaiian Falls waterparks. We are so excited to be partnering with them again this year to share their Summer of Awesome with you!
This will be our third year as season pass holders, and there are a few reasons why we keep renewing our passes year after year.

5 Reasons to Buy a Hawaiian Falls Season Pass
Hawaiian Falls Season Pass holders receive early admission to the parks. Beat the crowds and get in at 10 am before the park opens to the general public at 10:30 am.
This is probably my *favorite* season pass perk! Prime seating in the shade goes quickly on a hot summer day, so we like to get in early and find a central location to be our "base of operations" for the day.
I like to set up near the children's splash area so that when Andrew is playing, I can sit in the shade and keep an eye on him. You wouldn't believe how quickly those seats fill up!
We leave our towels and bags on the seats to save them when we venture off to the lazy river or to ride slides. I keep my phone and credit cards in a waterproof bag that I wear while we're at the park.
As a season pass holder, you can visit the park as many times as you'd like during the summer! We like to visit the park first thing in the morning and spend a couple of hours there. It isn't as draining or exhausting knowing that we can go for a few hours multiple times during the week.
With younger kids, this is especially important because they tire easily. You can visit in the morning, then head home for naps!
And if there's a fun evening event, like Friday Palooza, you can go home to rest and refresh before coming back to enjoy the evening.
Visit any of the five parks with your regular season pass. We live close to the Roanoke location, but we have friends that live near The Colony, so we will meet them at that park sometimes during the summer. And we like to meet my brother's family at the Waco location a few times during the summer. It's so nice to be able to go to any Hawaiian Falls location with one season pass!
Get discounts on cabana rentals, food, and Big Kahuna tickets. Renting a cabana for special occasions is something that we LOVE doing, and that 25% discount helps a ton! And if you purchase a season pass before June 18, you'll receive a coupon sheet that includes two half-off buddy day passes, and one free buddy day pass. Buddy passes are not valid on Saturdays and holidays.
A Hawaiian Falls Season Pass pays for itself in four visits! With a daily admission price of $28.99, you just have to visit the parks four times to pay for your season pass. And that doesn't include all of the awesome perks you get as a pass holder!
Hawaiian Falls season passes are something that I recommend for any family in the Dallas-Fort Worth area, especially if you live near one of their five locations! Click here to purchase yours today.
Have you ever been to Hawaiian Falls?
br>