My son's favorite way to color is with these heart shaped crayons. Since he has started school, he has become obsessed with coloring.
We have so many crayons laying around, that I was excited to try to make some Heart Shaped Crayons by melting some of the extra ones from our supplies. Andrew was so excited about these crayons — he kept yelling, "Hearts!"
The great thing about these crayons is that you can even use broken ones. Now, when your vigorous toddler accidentally breaks a crayon in two, you can make these.
Heart Shaped Crayons with Printable Valentines
Here's what you need to make Heart Shaped Crayons:
60-75 Crayola crayons
If you want to use these as Valentine's Day cards, click here to download a FREE printable. (Our International friends might want this FREE printable.)
Directions:
Using a very sharp knife, cut through the wrapper on each crayon length-wise and remove it. Break the crayons into small pieces, if they are not already broken.
Sort the crayons by colors that will work well together — greens and yellows; blues and purples; and pinks and reds.
Fill each heart in the silicone mold with broken crayons. This mold was the perfect size, and I love the indentations of smaller hearts!
Bake a 250 degrees F for 15-20 minutes until crayons are fully melted. Allow to cool and harden completely before removing from the mold.
Want to make them extra-special? Add a few drops of lemon oil, citrus oil, or lavender oil to the melted crayons before allowing them to cool. This will make the crayons aromatic and enhance the sensory benefits of them!
I attached the crayons to the Valentine's Day cards using a drop of hot glue. I think they turned out really cute!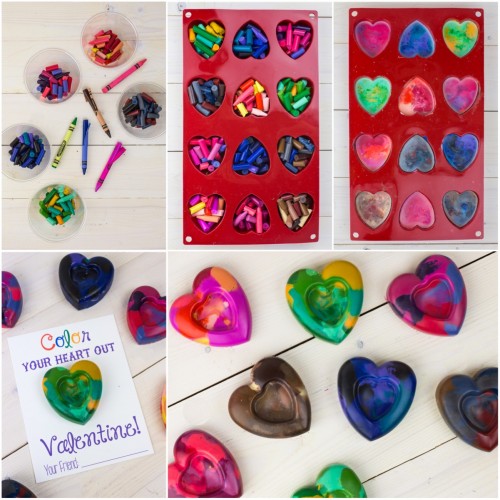 You could really make any shape of crayons with this method using silicone molds. Here are a few of my favorites: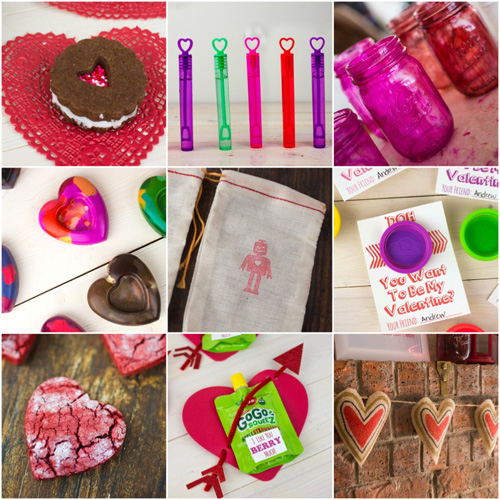 Valentine Sandwich Cookies | Bubble Valentines | DIY Colored Mason Jars
Heart Crayon Valentines | Robot Heart Valentines | Play-Doh Valentines
Red Velvet Crinkle Cookies | GoGo squeeZ Valentines | Burlap Heart Garland
br>