Since Andrew started preschool, one of the things I've struggled with is coming up with yummy, healthy snacks for the kids that are store-bought. I understand the necessity for this, especially when there are children with allergies present. So I've made it my mission to come up with fun, creative ways to package store-bought snacks so the kiddos can still have a little fun.
That's where these GoGo squeeZ Mummy Pouches come in. Andrew LOVES GoGo squeeZ. He would eat it every day if he could. I love that it's healthy, and clean up is a cinch. It's the perfect snack for both moms and kids.
Next week, I'll share a way to package the GoGo squeeZ pouches that would work for Fall Harvest parties. If you have little ones that are scared of Halloween (or schools that have Harvest parties instead of Halloween) this would be a great option.
But if you're looking for a spooky way to server GoGo squeeZ, look no further!
Here's what you'll need:
GoGo squeeZ pouches
Glue dots
Plastic googly eyes
White crepe paper
Permanent marker
Directions:
Apply a glue dot to the end of the crepe paper roll and fasten it to the back of a GoGo squeeZ pouch. Wrap the crepe paper around the pouch to resemble bandages. Fasten with another glue dot and cut off the roll.
Apply glue dots to the googly eyes and stick on.
Cut a strip of crepe paper long enough to wrap once around the pouch, then cut it in half length-wise. Fasten with glue dots to make bandages over the tops and bottoms of the eyes.
Draw on a mouth with the permanent marker.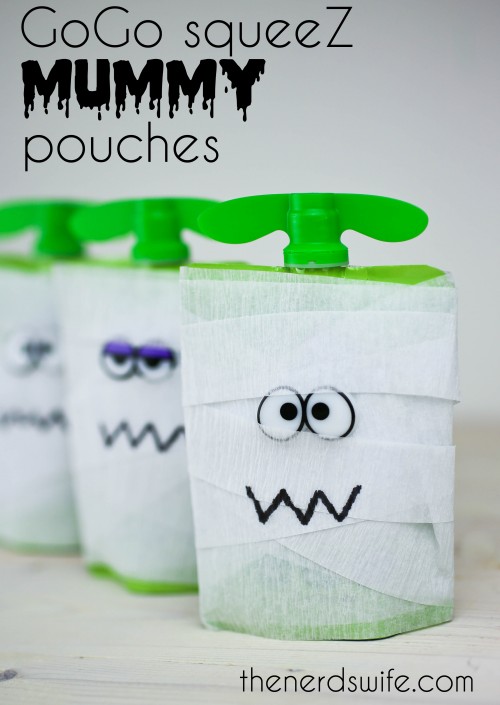 Easy, right?
And with Halloween next week, these would make an awesome Trick-or-Treat item to give out to kiddos. Everyone gives out candy — you can be the cool mom on the block handing out GoGo squeeZ Mummy Pouches!
Disclaimer: I received GoGo squeeZ samples to hand out to Trick-or-Treaters for Halloween. No other compensation was given. All opinions and photos in this post are my own.
Need more ideas? These healthy preschool snacks are super easy, too!
Check out these other fun Halloween ideas!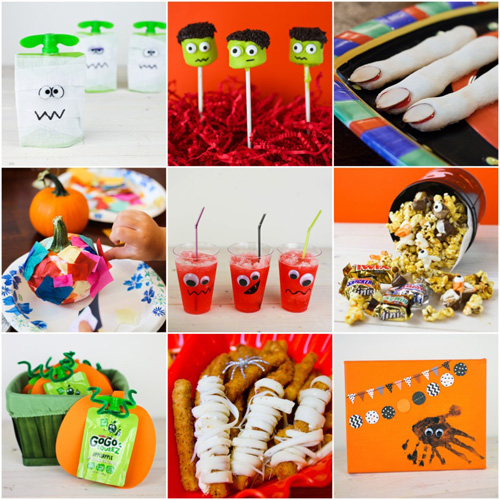 Mummy Applesauce Pouches | Frankenstein Marshmallow Pops | Dead Lady Fingers
Patchwork Pumpkins Craft | Monster Mash Punch | Spooky Candy Caramel Corn
Pumpkin Applesauce Pouches | Mummy Chicken Fingers | Spider Handprint Craft
br>