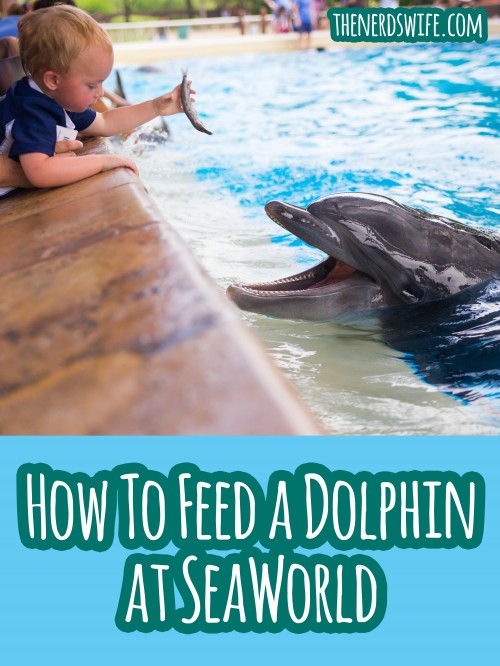 One of the most inexpensive and fun animal encounters at SeaWorld San Antonio is the Dolphin Touch program. We seriously love feeding the dolphins at SeaWorld San Antonio — we try to do it every time we visit.
Ever since I swam with the dolphins in Mexico, I've wanted Andrew to have the chance to interact with them. The Dolphin Touch program at SeaWorld San Antonio is the perfect way to introduce your kids to dolphins. Someday, he'll get the chance to swim with them. But for now, this is the next best thing!
The Dolphin Touch program sells out quickly, so make a reservation online or at the guest relations window when you first get to the park. We've always done a feeding at a later time in the day. Reservations are $15 per person.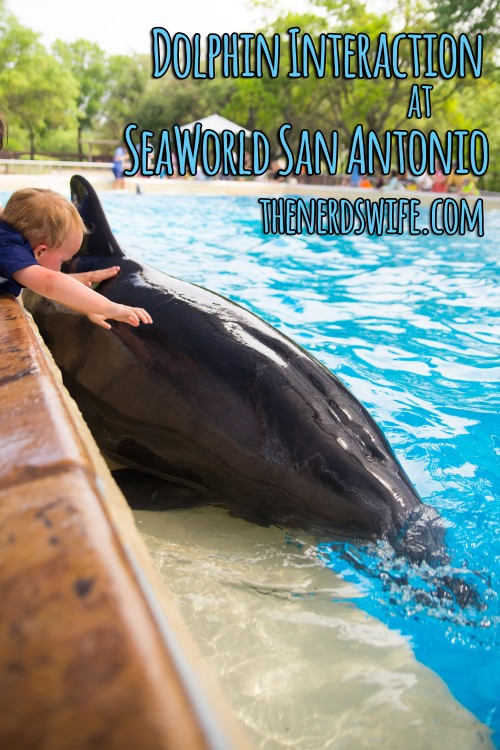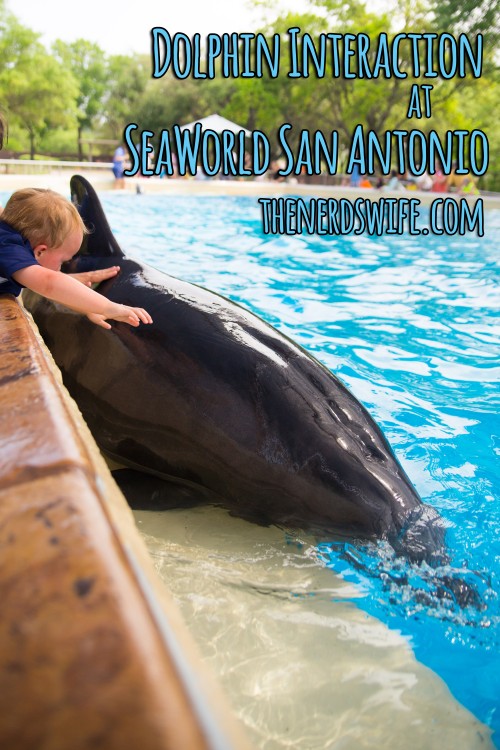 About 15 minutes before your reservation, make your way to Dolphin Cove and wait for a trainer to bring you into the Dolphin Touch area. They'll give you a short safety briefing, then assign you to a trainer along the dolphin habitat.
Your trainer will call a dolphin to you, and you'll get to pet them. The dolphins feel really cool, and love to be rubbed! Your trainer will also give you some information about your dolphin, and answer any questions that you have.
They'll then let you feed your dolphin — you get to throw a small fish into its mouth. My son LOVED this part. He still talks about feeding the dolphin a fishie. So much fun!
Photos via SeaWorld photograher
There will be a SeaWorld photographer on the other side of the habitat taking photos of everyone participating in the Dolphin Touch program. Before your encounter begins, the trainers will point the photographer out to you. Keep in mind where he is during the interaction — my mom's photos did not turn out because he was at an odd angle to her and her arm was blocking my niece's face in all of the photos. I got lucky, and ours turned out great.
If you haven't gotten enough of a dolphin fix, make sure to stick around Dolphin Cove to watch the trainers work with the dolphins. It's really cool! And you can always lay on your belly along the dolphin habitat for the chance to see the dolphins up close. They're really playful and like to splash!
Click here to read more about our family adventures at SeaWorld San Antonio.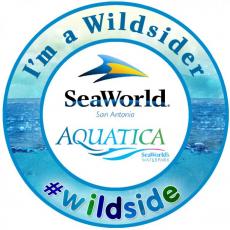 Disclosure: I'm a SeaWorld Wildside blogger. I receive complimentary passes for my family and other perks throughout the year. All opinions and photos are mine.
br>