This month DreamWorks Animation's all-new Netflix original series debuted with 13 episodes. Dragons: Race to the Edge features an all-star cast: Jay Baruchel and America Ferrera — stars of the How to Train Your Dragon films — return to provide the voices of Hiccup and Astrid, along with Christopher Mintz-Plasse as Fishlegs, and T.J. Miller as Tuffnut.
In this NEW series, Hiccup and Toothless discover a mysterious artifact known as the Dragon Eye, a remarkable relic that contains new information about undiscovered dragons and islands far beyond the borders of known Berk. This Dragon Eye is the springboard for Hiccup and the Dragon Riders to leave Berk for the first time, leading to epic adventures packed with new worlds and dragons!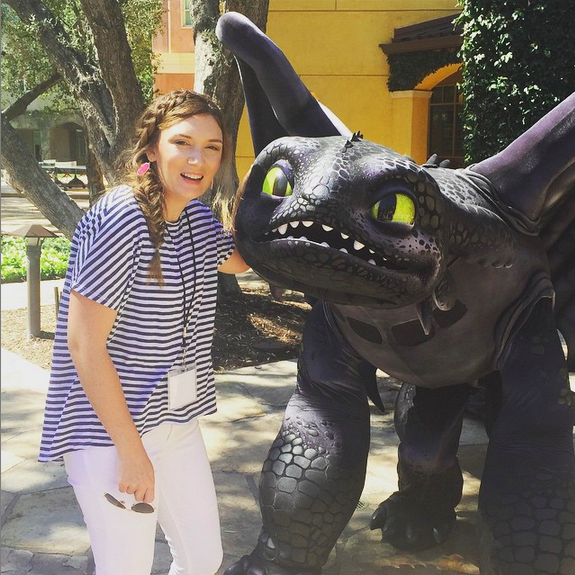 I had the chance to preview this new series during a trip to DreamWorks studios a few weeks ago, and let me tell you — it's awesome!
Grown-ups can watch alongside kids because there are funny jokes, grand storytelling, and epic adventures that audiences of all ages will enjoy.
The dragon riders step away from the safety of Berk and discover Dragon's Edge, an island on which the riders establish an outpost and home based for their new adventures. Through the course of the series, the riders will gain their independence as they enter young adulthood and embark on extraordinary journeys together. The themes of Race to the Edge draw strong parallels with the same experiences Dragon fans are going through in their own lives as they begin to leave the comfort of their homes, and embark on new adventures.
Taking advantage of the latest technological advances in television animation, the series takes audiences to new heights never seen before on television with more elaborate environments, unique dragons, and incredible effects.
It is such an incredible show. From the animation to the characters, this show has something for everyone. It's a new favorite in my family!
Do you have any "Dragon" lovers in your house? My boys totally binged watched the first six episodes! I had to pry them away from it, promising that they could come back and watch more later. I love the sense of adventure and imagination that my boys can get from watching Hiccup and Toothless.
Are you excited to see Dragons: Race to the Edge? Go check it out now!
br>