We tried out these Educational Beach Activities for Kids with Banana Boat as part of a sponsored post for Socialstars. #BestSummerEver
Visiting the beach as much as we do, I've had to get creative to keep boredom from setting in. There's only so much unguided fun that a preschooler can have in the sand and waves. That's where these Educational Beach Activities for Kids come in. They're easy, fun, and the best part is that your kiddo will actually LEARN something from them!
My kiddo loves playing with balls — he likes to throw them, roll them, whatever it takes. So I knew that any activity where we got to use balls would be a winner. And we've been working on counting and addition, so I thought a fun game where we added up points would be perfect!
Beach Bowling Game
For our Beach Bowling Game, I drew circles in the sand with numbers inside. These were our points. We then took some tennis balls and tried to roll them into the circles, collecting points to see who won.
It took a bit of practice to figure out just how much force to use when rolling the ball. But soon, the kids were pros. Sometimes, the wind would come in and take a ball astray, making it even more of a challenge!
Once the kiddos got tired of rolling the tennis balls, they started incorporating them into other aspects of their sand play. We dug holes and threw the balls in. We watched the balls float on the waves as they crashed into the shore.
My favorite thing about this fun activity is that we were working on our math skills while having fun. Definite mom win!
Once the kids got going on their game, I got the chance to sit back and watch. Of course, all that relaxing in the sun means one thing for my fair skin — the chance to be sunburned! But I pulled out my Banana Boat Dry Oil Clear UltraMist Sunscreen with Argan Oil.
It's perfect for moms — reformulated with Argan oil, it leaves your skin feeling silky-smooth and moisturized in addition to protecting it from the sun's harmful UVA and UVB rays. And the one touch spray provides quick, easy coverage for moms with kiddoes hanging onto you.
My favorite thing about it is that it's non-greasy and lightweight. I almost forgot that I applied sunscreen because it felt so good on my skin!
Available in SPF 4, 8, 15, and 25, it's water-resistant for up to 80 minutes. So feel free to soak up that sunshine while watching your kiddos play, knowing your family is protected.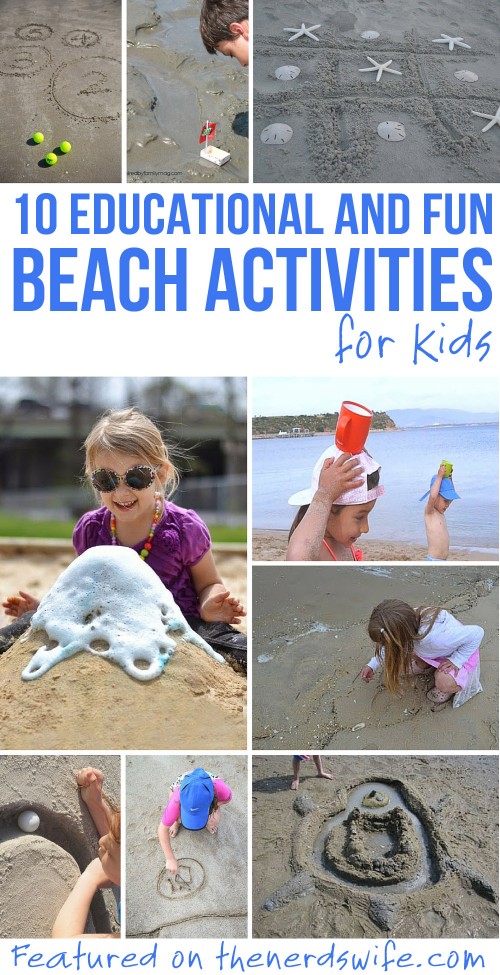 Educational Beach Activities for Kids
Ball Channel Races – Not only will kids love digging the channels for this fun activity, they'll have fun racing each other to get their ball to the end. Experiment with how much force is needed to move a ping pong ball vs. a tennis ball. (via Mom.Me)
Matchbox Boats – These simple boats will allow kids to explore the waves going in and out on the shore. Talk about how wind blowing across the surface of the water creates waves that build larger and larger the closer they get to the beach.  (via Inspired by Familia)
Sand Volcano – Use this fun activity to illustrate how real volcanoes erupt. Kids will love watching this fun chemical reaction! (via Growing a Jeweled Rose)
Beach Clean-Up Scavenger Hunt – Teach kids about the importance to preserving our planet and oceans through this fun activity. They'll love checking off items that they find. Use challenging descriptions for older kids to inspire their creativity! (via Playdough to Plato)
Build a Moat – Dig in the sand to create a moat, and talk about how water builds valleys and mountains over long periods of time by washing away dirt, rocks, and sand. Bonus points if you build it close enough to the water that it fills in when the waves wash over it. (via Random Charm)
Tic-Tac-Toe – A fun game that will keep kiddos entertained. You could even search for shells to use as your game pieces. (via Three Pixie Lane)
Water Relay Races – Fill cups with water and have kids race each other while balancing the cups on their heads. This is a great activity to discuss volume. (via Playtivities)
Draw in the Sand – Let children use their imagination to create art in the sand. They can draw anything. (via Apartment Therapy)
Collect Seashells – Make these fun treasure bags before your trip and collect seashells along the beach. Sort them by size, color, or even texture! (via Come Together Kids)
Even More Summer Fun
Banana Boat is sharing even more fun ideas on their Facebook page all summer long! How cute is this yummy watermelon drink!?
br>