I recently hosted a Disney Princess Party for my niece, River, and her friends. I made these DIY Princess Tower Party Decorations using some spare cardboard and paint, and wanted to share the tutorial in case you're planning your own Princess Party! It's an easy way to add an elegant touch to your party decorations!
DIY Princess Tower Party Decorations
Supplies:
Cardboard, cut into rectangles that are 2 feet by 4 feet.
Light grey paint (I used Dolphin Grey Acrylic Paint)
Dark grey paint (I used Slate Grey Acrylic Paint)
Black paint (I used Black Acrylic Paint)
Large Paint Brush
Medium Paint Brush
Small Pink Silk Roses
Hot Glue
Directions:
Paint each cardboard piece with a light grey base layer. Allow to fully dry.
Use the large paintbrush to add some streaks of dark grey paint. This gives it a more dimensional look. Allow to fully dry.
Mix a bit of black paint with your dark grey paint to make it even darker. Then, use the medium paint brush to add lines in a brick pattern. Allow to fully dry.
Right before your party, use the hot glue to add the roses to the top of the wall. We used thumbtacks to hold the cardboard onto the wall during our party.
I also strung some tulle in between the walls for a fun look.

Need more inspiration?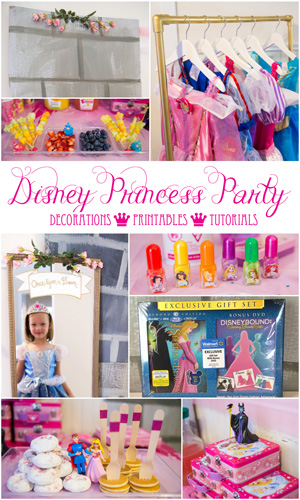 Check out my Disney Princess party ideas!
br>