For our Disney Princess Party, I knew that I wanted to have a princess area for the girls to dress up like their favorite princess. This DIY Princess Mirror was such an easy addition that cost less than $20 to make. The girls loved being able to see their princess reflections!
Every girl loves to play dress-up, and I think this DIY Princess Mirror was probably the biggest hit of the party. The girls danced in front of it, had their photos taken in front of it, and loved modeling their new princess dresses in front of it.
Plus, my niece could not wait to move the mirror into her room after the party was over. It will make a great keepsake to remember her fun Disney Princess Party by!
DIY Princess Mirror
Supplies:
Door Mirror (I found this one at Walmart for less than $10!)
White Acrylic Paint
Pink Acrylic Paint
White Paint Marker
Gold Paint Marker
Small Paintbrush
Painter's Tape
Small Silk Roses
Hot Glue
Directions:
Add Painter's Tape around the inside of the frame.
Paint the frame using the pink acrylic paint. Allow to dry completely. You will need several layers of paint to make sure it's fully coated.
Note: After I finished this mirror, it cracked on our way to the party, so I ended up buying a different mirror that already had a gold decorative frame.

Use the white paint marker to outline a scroll banner onto the top of the mirror. I drew the design free-hand, but you could also print out this image and use it as a template.
Fill in the outline with the white acrylic paint and allow it to fully dry. Then, use the gold paint marker to trace around the edges of the scroll banner and write "Once Upon a Dream" onto the banner.
Right before the party started, I used hot glue to attach the roses to the top of the mirror.
I just love how it turned out. It would also make a fun addition to a princess-themed room for little girls!

Need more inspiration?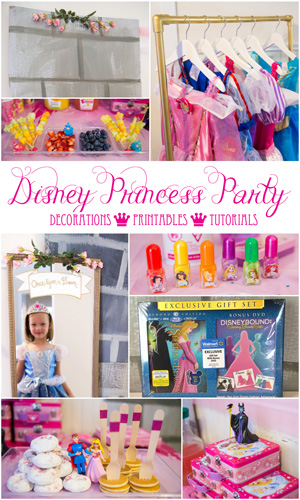 Check out my Disney Princess party ideas!
br>