I am a member of the Collective Bias®  Social Fabric® Community.  This shop has been compensated as part of a social shopper amplification for Collective Bias and its advertiser. #CollectiveBias #MySummerSavings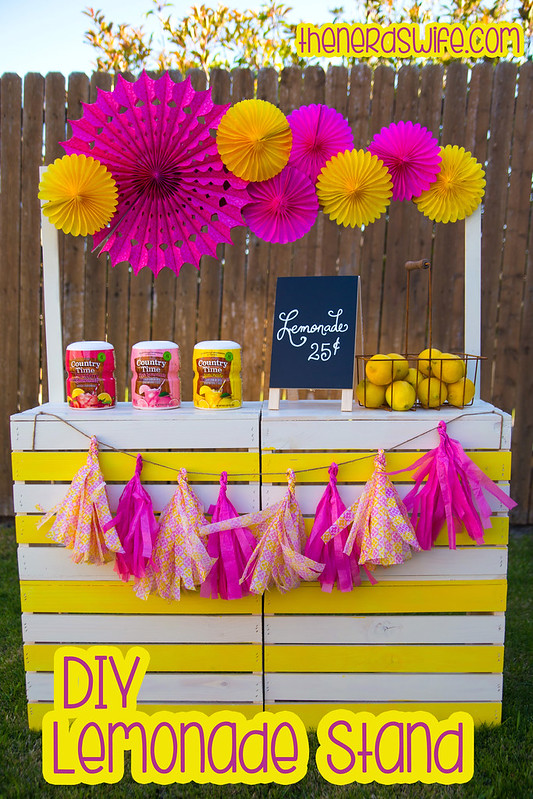 I am counting down the days until summer, and nothing says summer like a DIY Lemonade Stand. I like to pretend that I'm this handy person, but in reality, anything that requires tools intimidates me. Luckily, this lemonade stand *doesn't* require tools! And, of course, you need some yummy lemonade to serve at your beautiful lemonade stand, so I'm sharing a recipe for my favorite — Watermelon Lemonade!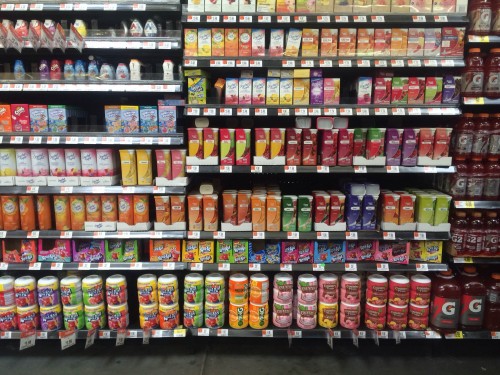 I headed to Walmart to pick up some Country Time Old Fashioned Lemonade for my recipe. I've been drinking this stuff since childhood and it's definitely a summer staple for me.

I couldn't resist trying out the Pink Lemonade and Strawberry Lemonade varieties, too.
First up, let's make the Watermelon Lemonade recipe.
Watermelon Lemonade Recipe
Ingredients:
1 8-qt container Country Time Old Fashioned Lemonade
1 watermelon
Directions:
Prepare 10 cups of lemonade according to package directions. Set aside.
Cut the watermelon into pieces — you'll use some for garnish, but most of it will be used to create watermelon juice. Add some pieces (without seeds or rind) in a blender and blend until smooth. Pour through a strainer. Repeat until you've got 6 cups of watermelon juice.
Pour the watermelon juice into the lemonade and mix well. Add lemon slices and pieces of watermelon for garnish. Chill for at least four hours.
Now, let's make the lemonade stand to serve this yummy lemonade. Let's get started!
DIY Lemonade Stand
Supplies:
4 wooden crates
12 zip ties
2 wooden stakes
White spray paint
Yellow acrylic paint
Hot glue gun and glue sticks
Directions:
Paint the wooden crates using the white spray paint. You don't have to cover all of the sides — You'll be stacking them on top of each other, so the sides that touch don't need to be painted.
Paint one side of the wooden stakes again.
Allow to dry fully.
Using the acrylic paint, paint every other board yellow. Remember, you'll be placing the crates side-by-side, so keep that in mind as you paint the boards.
Allow to dry again.
Using the zip ties, secure two crates on top of each other. Repeat with the other two crates.
Take the zip ties and connect the two sets of crates together through their handle holes so that they sit horizontally.
Here's what it will look like when you're done.
Use the hot glue gun to affix the wooden stakes to the stand. These can be used to hold a sign. I made an arrangement of paper fans and fastened them across the two stakes.
I also decorated the front of the stand with a string of tissue garland and used a chalkboard sign to announce our wares.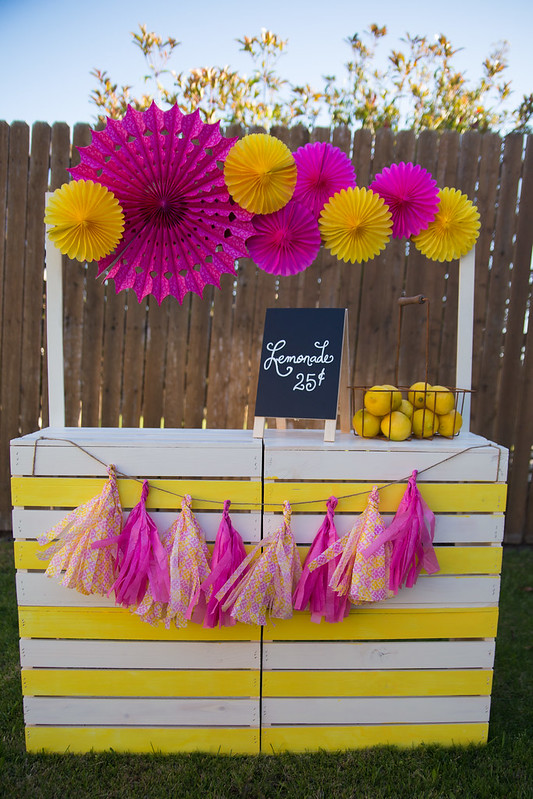 Isn't it fun?
Have you ever run a lemonade stand?
br>