I love decorating for different holidays. Our home will never look like the pages of a Pottery Barn catalogue, and that's ok. I much prefer simpler decorations that can be made yourself, like this DIY Burlap Heart Garland. To me, they have a much better story and appeal.
I recently decided to decorate our mantel for Valentine's Day. Having never done so before, I set out to make a garland to hang above the fireplace. I had some leftover laminated burlap from when I made my DIY Holiday Burlap Wreath, so I used it to make this garland.
I really like the rustic feel that it adds to the decorations. Sometimes, Valentine's Day can seem to be all about glitter and sparkle — this garland makes me think about country weddings and nights under the stars.
Ready to make your own? Here's a template you can use to make your own set of hearts.
DIY Burlap Heart Garland
Supplies:
1 roll of Laminated Burlap
Sharpie Paint Markes (red, black and gold)
Twine
Scissors
Hot Glue Gun and Glue Sticks
Directions:
Trace the heart template along the back of the laminated burlap, then cut out the burlap hearts.
Paint lines of different thickness around the inside of the burlap hearts using Sharpie Paint mMarkers. I did a medium-sized outline of gold, followed by a thin line of black, and then filled in the middle with red. They don't have to be completely perfect — that's what makes this project so unique and fun!
Allow to dry completely.
I strung the twine across our mantle, then marked where the hearts should go along it so that they would be spaced out evenly. Using hot glue, attach the hearts along the twine.
I really love how it looks with the decorated mantel. I used these DIY Colored Mason Jars to display flowers, along with some framed photos from Andrew's Valentine's Day mini session last year and a printable quote about love.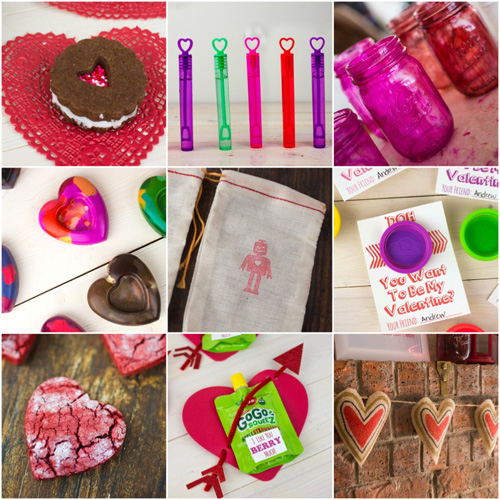 Valentine Sandwich Cookies | Bubble Valentines | DIY Colored Mason Jars
Heart Crayon Valentines | Robot Heart Valentines | Play-Doh Valentines
Red Velvet Crinkle Cookies | GoGo squeeZ Valentines | Burlap Heart Garland
br>