Help your kids learn about art and explore their creativity with this Creative Galaxy Art Party, inspired by one of three original Amazon Kids shows.

Did you know that Amazon has great original kids shows available only on Amazon Prime Instant Video? It's true! The shows feature original programming designed to inspire a lifetime of learning.
Our art-inspired party focused on Creative Galaxy, a make-along, create-along, interactive art adventure series for preschoolers. We started watching the series, and the kids loved seeing Arty and Epiphany travel around the galaxy to solve problems with art.
The kids were so engaged with the show, and I loved that it inspired creative thinking through crafts, music and dance. We even had a scavenger hunt to look for important details in the storyline!
Each episode ends with a live-action skit where kids create a craft project inspired by the storyline. This series is designed to support a child's natural inclination to use their imaginations to make and create. The skills utilized and learned through making art are vast and useful. In every episode, the characters use "fix it with art" to model the pervasiveness and importance of art as a resource for life.
Those skits got the kids ready to create some art of their own, and we decided to make some Pointillism paintings, inspired by "Arty's Masterpiece," the first episode of the series.
The kids used Q-tips to create dots on their canvases with washable paint — they loved getting their hands dirty and really got inspired to get creative! It was such a fun activity, and I loved that each child got to take home a piece of artwork that could be hung in their home. Art makes life joyful, after all.
For snacks, we served some rainbow fruit kabobs and colorful confetti cupcakes, inspired by the bright, colorful environment in Creative Galaxy.
Some other shows to check out include:
Tumble Leaf, which follows Fig — a delightfully curious blue fox — and his best friend Stick — a quirky caterpillar — as they embark on a fun and nature-filled adventure, learning science through their natural play.
Annedroids, a live-action adventure series for children ages four to seven. It follows a young female scientist named Anne, her human friends, and their android assistants, as they navigate amazing scientific discoveries while undertaking the biggest experiment of them all — growing up.
The series spotlights, through trial and error, how science, technology, engineering, the arts and math (STEAM) can inspire children to do great things. Anne and her friends' adventures provide many opportunities to showcase the key processes of STEM, which are often not addressed well in children's television programming. In particular, it is good to see that Anne and her friends learn as much from failure as success, and see their failures as opportunities to try new things.
You can watch Tumble Leaf, Creative Galaxy, and Annedroids only on Amazon Prime Instant Video!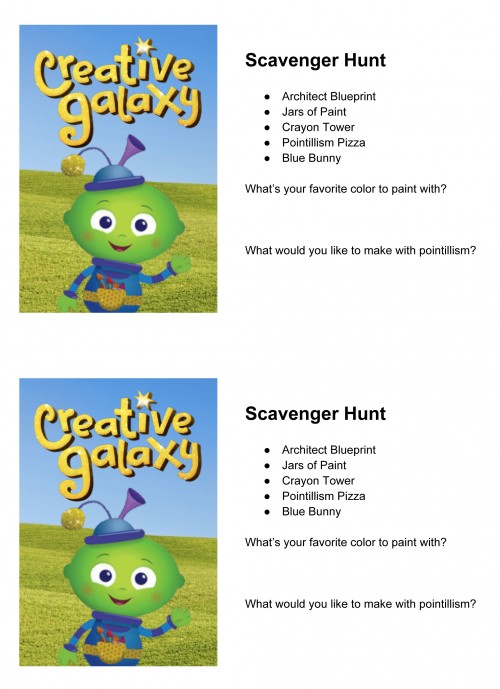 Click here to download the Creative Galaxy Scavenger Hunt.
I was selected for this opportunity as a member of Clever Girls and the content and opinions expressed here are all my own.
br>