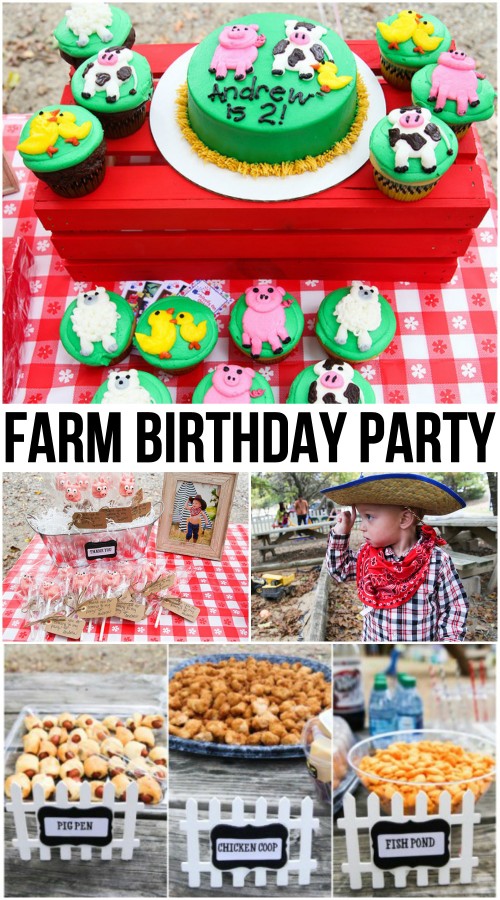 I've been looking forward to Andrew's 2nd Birthday Party for weeks. This was the most fun I've had planning a party, and I think it turned out so cute! I'm so excited to share all the details with you!
We had the party at Grisham Farms Petting Zoo in McKinney. They were super-easy to work with and it was a great location. I decided to go with a farm theme for the party, since we'd be on a farm, and I thought it would be fun for the kids.
Guests were greeted by cowboy hats and bandanas on the present table as they walked up to the farm. The kids really loved wearing their hats and putting the bandanas around their necks! I loved seeing which colors they picked — with so many girls at the party, pink was a popular color!
I also had a table set up to display the cupcakes and smash cake, which turned out *so* adorable. I painted a wooden crate red, and used it to give some height to the table. The photo of Andrew in his cowboy hat added another fun touch to the display.
I also made some Pig Marshmallow Pops and added a fun tag to those as a thank you for guests when they left. Above the table hung a banner I made using laminated burlap, stiffened felt and paint. We strung tissue paper garlands on either side. I really love how it turned out!
For food and drink, we served pigs-in-a-blanket, chicken nuggets, gold fish, veggie tray, fruit tray and sheep thumbprint cookies! We also served lemonade in these really cute plastic milk bottles and boxes of apple juice. Of course, there was soda and bottled water for the grown-ups!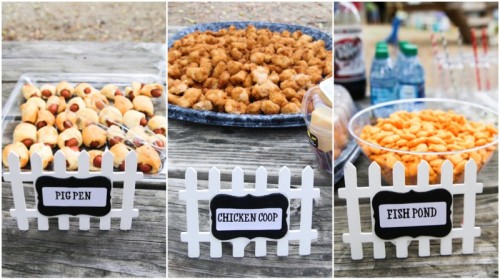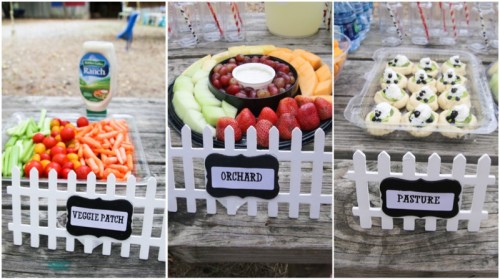 I made the signs for the food out of wooden plaques and white picket fences that I found at Michael's. I was so thrilled with how they turned out! Each food had its own "area" of the farm — the kids really loved going through and reading the signs as they got their food!
Once all the guests had gotten some grub, the *real* fun on the farm began! We went inside the barn for a small animal presentation by the farm staff!
Andrew was so excited when she started to bring the animals out. The kids got to meet all different kinds of animals. It was so fun to see their faces as they touched the ones they were a bit afraid of. But they were so brave!
We then headed outside so the kids could feed the large animals. They really loved this part!

While the other kids were busy feeding and petting the horses, goats, cows and sheep, Andrew was busy chasing the turkey. That's my boy, right there.
It was such a fun day on the farm! You can check out my post over on Dallas Moms Blog to read more about the venue, and why I loved it. If you have a toddler who loves animals, this is definitely the perfect place for a party!
Party Supplies:
Cupcakes and Smash Cake
Plastic Milk Bottles
Paper Straws
Cowboy Hats
Bandanas
Andrew's Cowboy Photo by Tara Swain
What's your favorite part of a birthday party?

br>