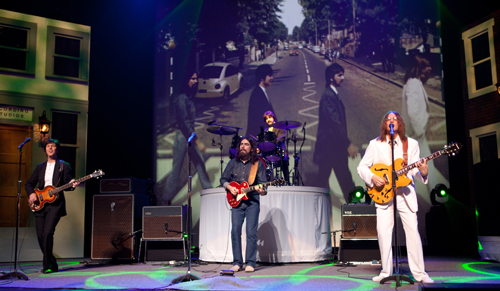 Ever wanted to see The Beatles live? While we won't get the chance to see John, Paul, George and Ringo anytime soon, the next best thing takes the stage in Dallas this weekend. Dallas Summer Musicals presents Rain: A Tribute to the Beatles this weekend only — don't miss your chance to get tickets!
Rain performs the full range of The Beatles' discography live onstage, including the most complex and challenging songs that The Beatles themselves recorded in the studio but never performed for an audience.
Together longer than The Beatles, Rain has mastered every song, gesture and nuance of the legendary foursome. They perform the early hits along with later classics, including I Want To Hold Your Hand, Hard Day's Night, Sgt. Pepper's Lonely Hearts Club Band, Let It Be, Come Together, and Hey Jude.
Dallas Summer Musicals offered me the chance to go see the show this weekend, and I'm really excited to get to take my parents. My dad is a Beatles fan and I can't wait to share this experience with him!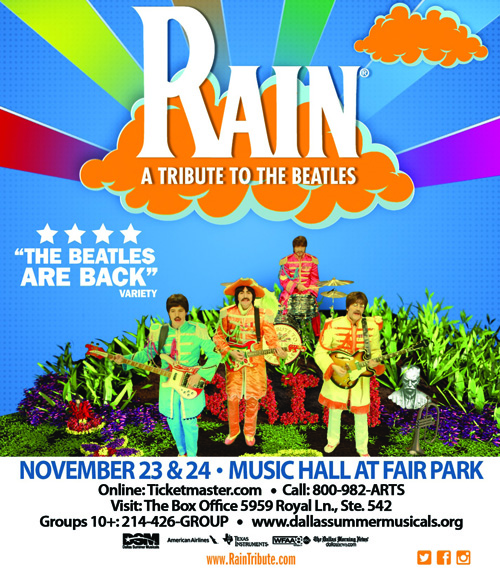 Showtimes Include:
Saturday, Nov. 23 at 1:30 pm and 7:30 pm
Sunday, Nov. 24 at 1:30 pm and 7:30 pm
You can purchase tickets online or call 1-800-982-ARTS.
Click here to see the full lineup of shows in the Dallas Summer Musicals 2013/2014 Season Preview.
Are you a Beatles fan? What song is your favorite?
Disclaimer: I received tickets to the show in exchange for promotion. All opinions are my own.
br>