College Football season is here! Hooray! Since The Nerd and I both attended Texas A&M, we wanted to make sure that Andrew grows up as part of the Aggie Family. Last year, we took him to his first Aggie Football game the day after his first birthday. This year, we took it a step further and joined the Aggie Wagon tailgate! We've been making the three-hour trek to College Station for most of the home games, just to hang out and eat great food. This weekend is our turn to provide the food, so I decided to make these Aggie Football Cookies!
It was actually harder than I thought it would be to color royal icing maroon, so I thought I'd share some of what I learned in case anyone else decides to give these fun cookies a try.
First, you'll need a cooled batch of sugar cookies, cut out as football helmets. I used this cookie cutter and this sugar cookie recipe, which made 23 4-inch cookies.
Once the cookies are cooling, you can start on the Royal Icing.
Royal Icing
Source: Wilton
Ingredients:
4 cups sifted powdered sugar
3 Tbsp meringue powder
6 Tbsp water
Directions:
In the bowl of a stand mixer, stir together ingredients and mix on low speed for 7 to 10 minutes, until stiff peaks form. Color icing immediately — it will start to dry if you let it sit too long. If it does dry, mix in a splash of water.
The icing should be easy to pipe in this consistency. You'll need to thin it with a bit of water to flood the cookies.
For the Aggie Football Cookies, I used three colors: white, gray and maroon. The royal icing is naturally white, so set aside a small amount of it to use to pipe the aTm logo on the dried cookies.
To color the icing gray, add just a touch of black icing gel color to the white royal icing.
Achieving the maroon color is a bit harder. I started with this icing color chart, which calls for burgandy icing gel color and red red icing gel color. Mixing these colors together in equal parts, though, turned my icing very, very pink. I added more burgandy to the mixture and that helped some, but it still needed to be darker. So I added in some black, and that did the trick.
Pipe a maroon outline around the football helmet shape on the cookies and allow it to dry. Then pipe the face mask shape using the gray icing. Add some water to your maroon icing and put it in a squirt bottle to flood the color onto the football helmets within the outline. When it's dry, flood the cookies. Use a toothpick to spread the icing around and allow to dry for several hours.
Finally, pipe the aTm logo onto each helmet.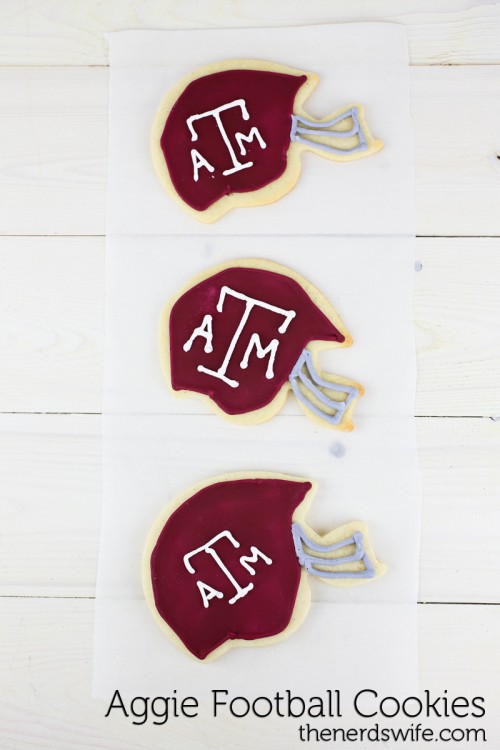 I also made a few with the Aggie Wagon logo!
I think they turned out so cute!
What's your favorite thing to bring to a tailgate?
br>