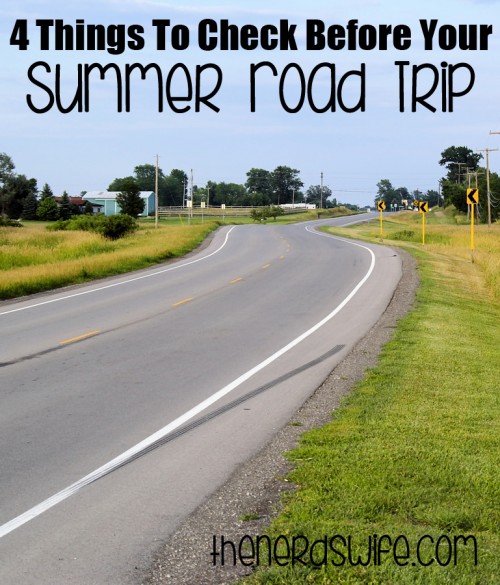 Summer is here, and it's time to hit the road! And in honor of Tire Safety Week, the folks at Right Turn want to be sure that you know these 4 Things To Check Before Your Summer Road Trip.
We are *constantly* in motion during the summer — whether it's a visit to SeaWorld or a trip to the beach, our family spends a lot of time on the road. Between packing all the paraphernalia needed for a feisty two-year-old and making sure we don't forget — or lose — anything, checking my tires is not usually something I worry about.
But I should!
Not only can making sure your tires are in good condition help improve gas mileage, it's critical in ensuring your family's safety while on the road.
1. Pressure

Make sure you check the pressure on all four tires, including the spare! And make sure that you check them at least three hours after driving to get an accurate reading — tires heat up when you drive, increasing the pressure. This should be done monthly, as changes in weather can affect pressure, and tires naturally lose pressure over time.
2. Alignment

Did you know that when your wheels are misaligned, they can cause your tires to wear rapidly and unevenly? Check your owner's manual for the recommended interval to get your wheels aligned.
3. Rotation

Tires wear differently depending on their location on your vehicle — even if it's properly aligned. So it's important to have them regularly rotated to allow them to wear consistently. Again, you can check your owner's manual for the recommended interval. It's usually 5,000 to 6,000 miles. I like to have mine done every-other oil change. Having a schedule helps me remember to get it done!
4. Tread

The amount of tread remaining on a tire is probably the easiest — and one of the most important — things to check. If your tires are too worn, it can create a deadly situation for yourself and anyone else in your vehicle. It's important to replace worn tires before an accident can occur. A visual inspection is a great way to ensure whether your tires have enough tread remaining.
It's amazing how much an effect tread depth can have on a vehicle's stopping distance:
Luckily, if you do need to have your tires replaced, Right Turn is the perfect place to, well, turn. You can shop online for a set of tires, pay a great price, and find a local dealer-certified installer to put them on your vehicle. It's that easy!
To learn more about Tire Safety Week, click here.
Do you have any road trips planned this summer?
Disclosure: This post was sponsored by Right Turn. All opinions are my own. 
br>