I made this Sweet'N Low Roasted Peach Lemonade as part of a sponsored post for Socialstars. #SweetNLowStars
Nothing says summer quite like an ice-cold glass of lemonade. But add in the yummy flavor of roasted peaches fresh off the vine, sweetened with some Sweet'N Low, and you've got an even tastier low-calorie treat.
Lemonade is one of my favorite things to drink during the hot summer months, but it can get boring after a while. I like to experiment with flavors, and thought some yummy Texas peaches would be a great addition to my favorite drink. I decided to use Sweet'N Low in this recipe to make it low-calorie.
It would be an awesome drink to serve when entertaining guests this summer!
Sweet'N Low Roasted Peach Lemonade
Yield: 2 16-oz drinks
Ingredients:
2 ripe peaches, cut in half and pitted
2/3 c fresh lemon juice
2/3 c cold water
15 packets Sweet'N Low
Directions:
Preheat oven to 400 degrees F. Place peaches on a foil-lined pan, skin-side down. Sprinkle with a bit of Sweet'N Low.
Bake for 25 minutes, until peaches are soft and roasted. The skins should peel off easily.
Meanwhile, mix together the lemon juice, water, and Sweet'N Low.
Add the roasted peaches to a blender, and pour in the lemonade mixture. Puree to get the desired texture.
Serve in mason jars with lots of ice, and pieces of peaches and strawberries.
Enjoy!
br> 
Get Started with Essential Oils
br>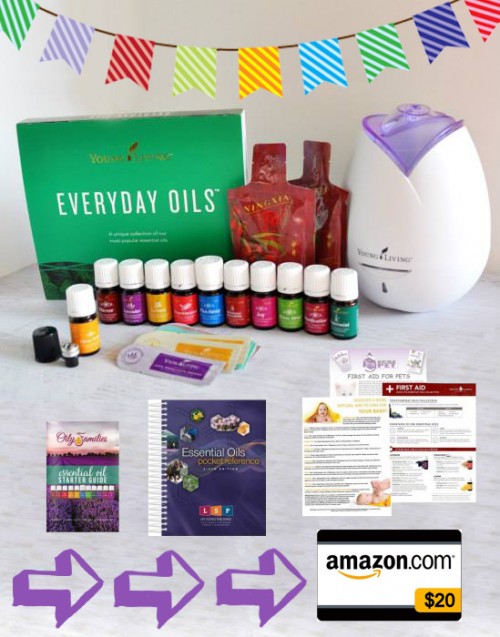 It's really easy to get started using essential oils by purchasing the Young Living Premium Starter Kit. We use essential oils for everything from freshening up the laundry to helping my son sleep at night. br> We're so passionate about the benefits of these oils, we're offering an amazing special! br>
Here is our MARCH 2015 deal*:
Young Living Premium Starter Kit with 11 essential oils, diffuser, and more
$20 Amazon gift card
The super helpful Essentials Oils Reference Guide (you can look up almost anything in it and see which oils have been used to help with that problem)
Essential Oil Starter Guide
Easy reference first aid, pets, and baby sheets
Access to the helpful Oily Families FB page
br>
*This offer is for US only, but don't worry if you are in another country! Many other countries can take advantage of a similar offer. Because not all countries allow the entire starter set to be shipped, you can go through the sign-up process to find out exactly what you are able to order. 
br>
We are using all of our commission that we would make off your purchase to give you these freebies because we truly believe that you will absolutely fall in love with these essential oils as much as we have!
br>
If you are ready to buy a starter kit, then be sure to sign up as a wholesale member (with one of the premium starter kits) through the instructions below by the end of March 2015 to take advantage of these freebies! br> 1. Head over to the Young Living page here and fill out your information. br> br> 2. Be sure the "Wholesale Member" option is checked so that you don't end up paying retail prices. br> br> 3. Be sure the "sponsor ID" and "enroller id" say 2452924 (so that I can send you your freebies!) br> 4. If you do not feel comfortable putting in your social security number (this is only for tax purposes if you decide to turn this into a business) then you can get an EIN from the IRS in just a few seconds here and use that number instead (the IRS just needs to be able to connect some number with you for tax purposes). They need a Social Security Number or an EIN because if you make $600 or more per year selling Young Living products, you will receive a 1099 form in the mail (which is required by law). Young Living will never share this info with anyone. br> br> 5. Select which starter kit you want to get. My recommendation would be the Premium Starter Kit (and that's the one where you get all of the freebies!) Those are the oils that I use almost every single day! You can get the kit that's $150, or you can get a kit for $160 with an even nicer essential oil diffuser! br> br> 6. I'd recommend skipping the Step 3 (Optional) part of the sign-up process. I'll send over an email with more details on that part of things after you sign up (if you're going to be purchasing products monthly then it's a great program that will give you credit back with each order and save you on shipping costs). br> br> 7. Go through the checkout process. br> br> 8. After you sign up, send an email to thenerdswife@gmail.com letting us know that you signed up through this promotion. Somewhere in the email, be sure to put the promotion code: THENERDSWIFE. br> br> BONUS Step 9 (COMPLETELY optional!) If you would like to earn a bonus oil this month, then get your order total up to 190 PV (different products have different point values). You could get the Start Living With Everyday Oils kit and automatically have 100 point value… then you'll just need 90 more points to get the bonus oil. For example, you could grab an extra bottle of Thieves Oil at 33.75 points, 15 ml bottle of Lavender at 23.5 points, 15 ml bottle of Lime at 11 points, and the 14.4 ounces of Thieves Household Cleaner at 22 points (just pour one capful of the concentrated Thieves cleaning solution into a spray bottle and it lasts for a really long time!) All of those items will bring your total points up to $190.25 which will qualify you to get the BONUS oil! (This step is completely optional!)
br> br>
IMPORTANT: This promotion is only available when you sign up with the sponsor ID and enroller ID as #2452924!
br> br>
Also, if you recommend this promotion to a friend (or group of friends) and they sign up too through this promotion then please let me know so that you can get credit for referring them.
br> br>
*Disclaimer: These statements have not been evaluated by the Food and Drug Administration. This information is not intended to diagnose, treat, cure or prevent any disease. The information on this site is not intended or implied to be a substitute for professional medical advice, diagnosis or treatment. Please confirm any information obtained from or through this web site with other sources, and review all information regarding any medical condition or treatment with your physician. Never disregard professional medical advice or delay seeking medical treatment because of something you have read on this website.
br> br> br>
Click here to read more about this deal and see the frequently asked questions.
br> br>